With a retained 'Outstanding' rating and a reputation for being the best in their area, we caught up with Anne Durnion, Care Manager of Caroline Cares for You, to learn their secrets to success.
How did you achieve your 'Outstanding' rating?
"It was a really steep learning curve, especially as there isn't much guidance about format. What really helped was learning from others - we had a lot of help from our local Registered Managers network via Skills for Care. I know a lot of care companies don't like to talk to others as it feels like competition, but we saw it as an opportunity to collaborate. So we gathered as much knowledge as we could.
"We went to the Care Show to look for software as we were having nightmares about missing a visit - we were writing rotas by hand and texting them to our carers. Nursebuddy were the only ones that really listened, and when we started with the platform, the stress went out of us.
"The CQC were also very approachable at the Care Show and gave us good feedback. They suggested that as we are experienced nurses, we do the training for our team. That saved us money, and it was good to be able to share our skills."
What have you done to grow your business?
"Obviously retaining our Outstanding rating - that's a huge thing. We're the best in the area and that creates a huge amount of word of mouth recommendations. We've also built up a network of people who can refer to us, like GPs, collaborative care teams and district nurses. We meet with them directly, so we can share information.
"We set-up a care advice agency, which gives out information about care free of charge to local people. That of course raises awareness of us as a care agency.
"And we have a very, very good reputation. We have a waiting list. We're still recruiting. Nursebuddy helps us to do that as we can see what the gaps are - we can visualise what's ahead."
What makes a successful care business?
"Care is at the centre - it's got to be good enough for our parents. So the bottom line is being caring - if a client needs a pint of milk, go and get them one. Don't leave them alone to struggle.
"One of the big things is person-centred care plans - that's one of the reasons we use Nursebuddy. We can put individual lines in to say what each person needs, it's really individualised. So our carers know exactly what to do. The tech works hand in hand with being a carer.
"Nobody gets a carer they haven't met before. We go out with new carers and introduce them to clients. We show them the little things on their first visit. Other care agencies might say that costs money, but we swallow that cost, because it's important clients always see people they know.
"And we lead by example. We go to see our clients each week and do visits at the weekend. It shows our team what we expect."
---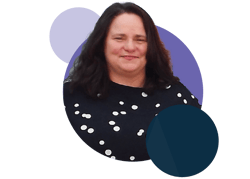 Anne Durnion is care manager of Caroline Cares for You, a twice-rated Outstanding homecare agency in and around Brackley. Founded in 2014 by Caroline Deakin, a practice nurse and RGN with over 20 years'
experience, Caroline Cares for You supplies a person-centred service to clients that has care at its heart. Together, Anne and Caroline recruit caregivers who put their clients first by listening to their needs, being
responsive to them in a caring way and keeping them safe at all times.
For more great ideas on growing a thriving homecare business, download The Thrive Guide.