Platform
Care Planning
Make your care planning digital, with centralised, interconnected and shareable information about your clients just a click or tap away.
Digital social care records
Make time for the individual.
Nursebuddy's client records are the place to store those little details that make all the difference when a carer visits. Viewable to care workers within Nursebuddy's mobile app, they help your clients feel understood and cared for. Things like:
Hobbies, interests and social clubs

What they used to do for work

Their preferred routines

Whether they live alone

Who else might be checking-in on them

Even a photo!
Client records capture all the care essentials too, of course, like addresses, medical information and emergency contacts.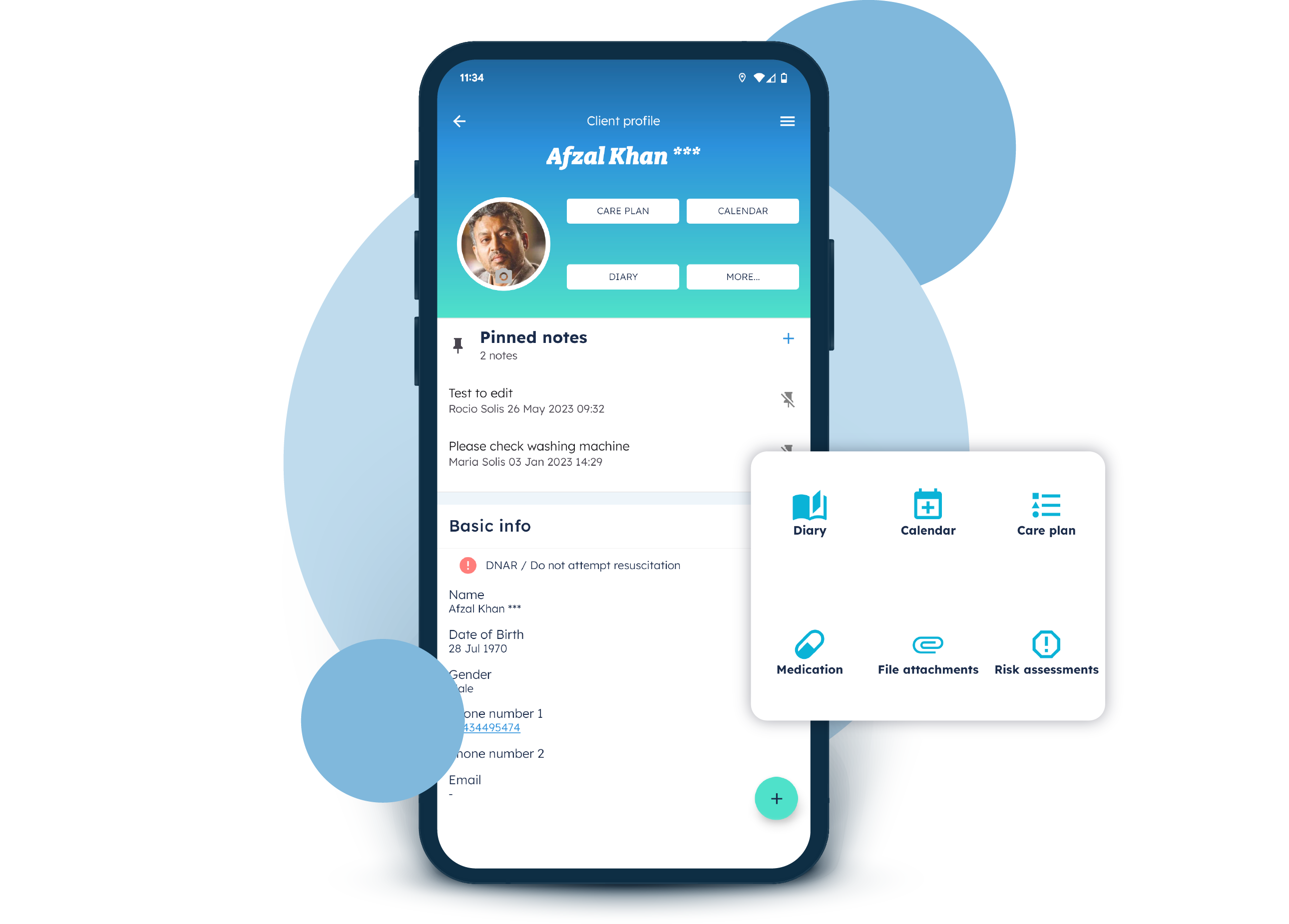 Digital care plans
Personalise client care.
Care plans are a fundamental, but sometimes time-consuming, part of how you care for people. Nursebuddy makes building out care plans fast and intuitive, while allowing you to tailor plans to individual client needs.
Use quick templates to standardise care plans with common information

Add and delete different care plan sections as you need

Use pre-defined tasks to quickly build out a care plan

Choose the priority of each care plan section to tailor the plan to your client

Lock the care plan, and set automated reminders for review.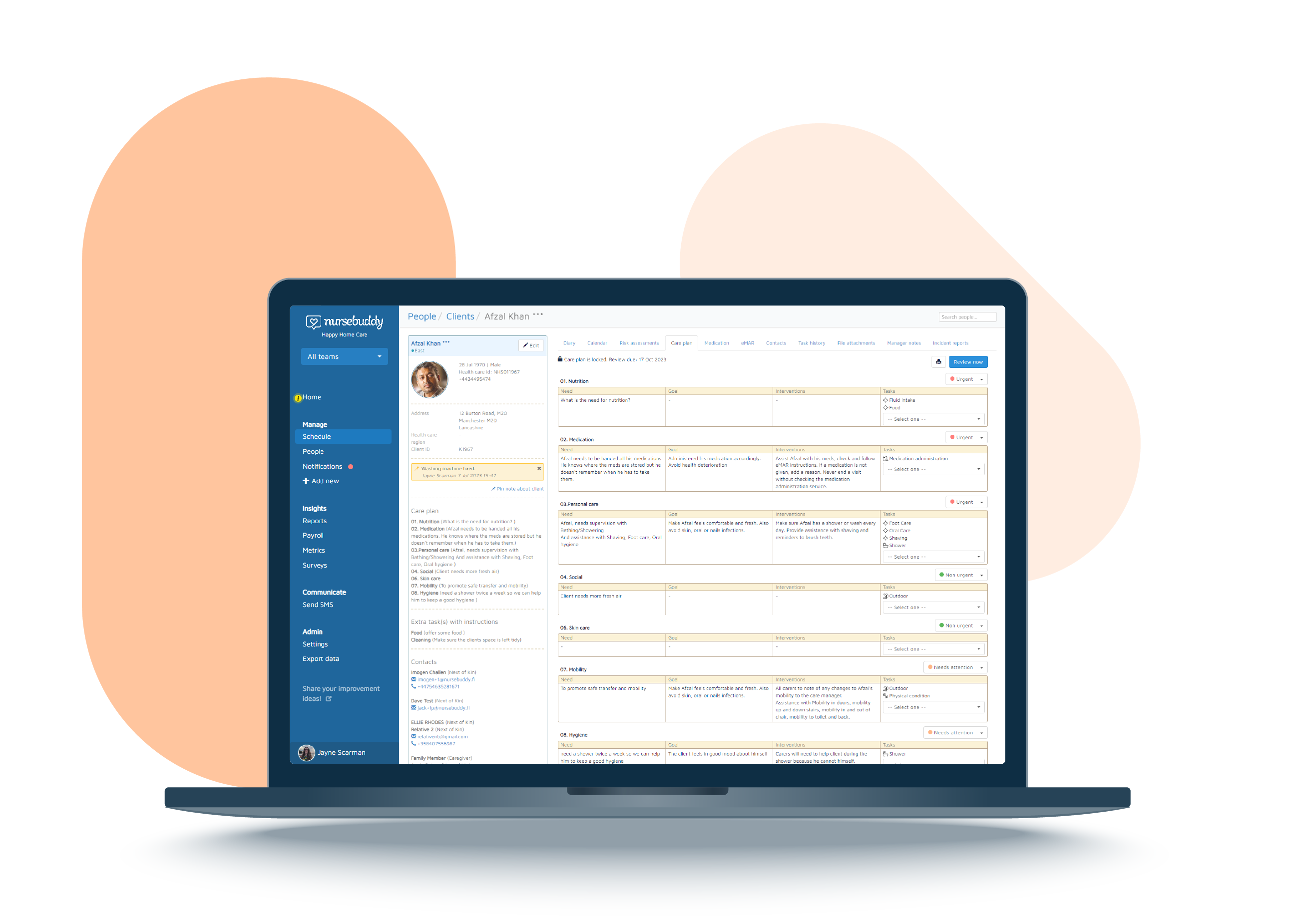 eMAR
Safe medication management.
Nursebuddy's eMAR can be set-up to reflect exactly how your care company manages medications and provides clear, reassuring guidance to your carers when attending a visit.
Create your own medication database

Handles both mandatory and PRN/as required medications

Specify dosages and repetitions

Use body maps to mark precisely where treatment should go

Daily notifications to review missed medications

Colour-coded MAR charts to clearly show medications given

Customisable reason codes for medications not given

Automatic MAR sheet updates after each visit, with information pushed from the carer app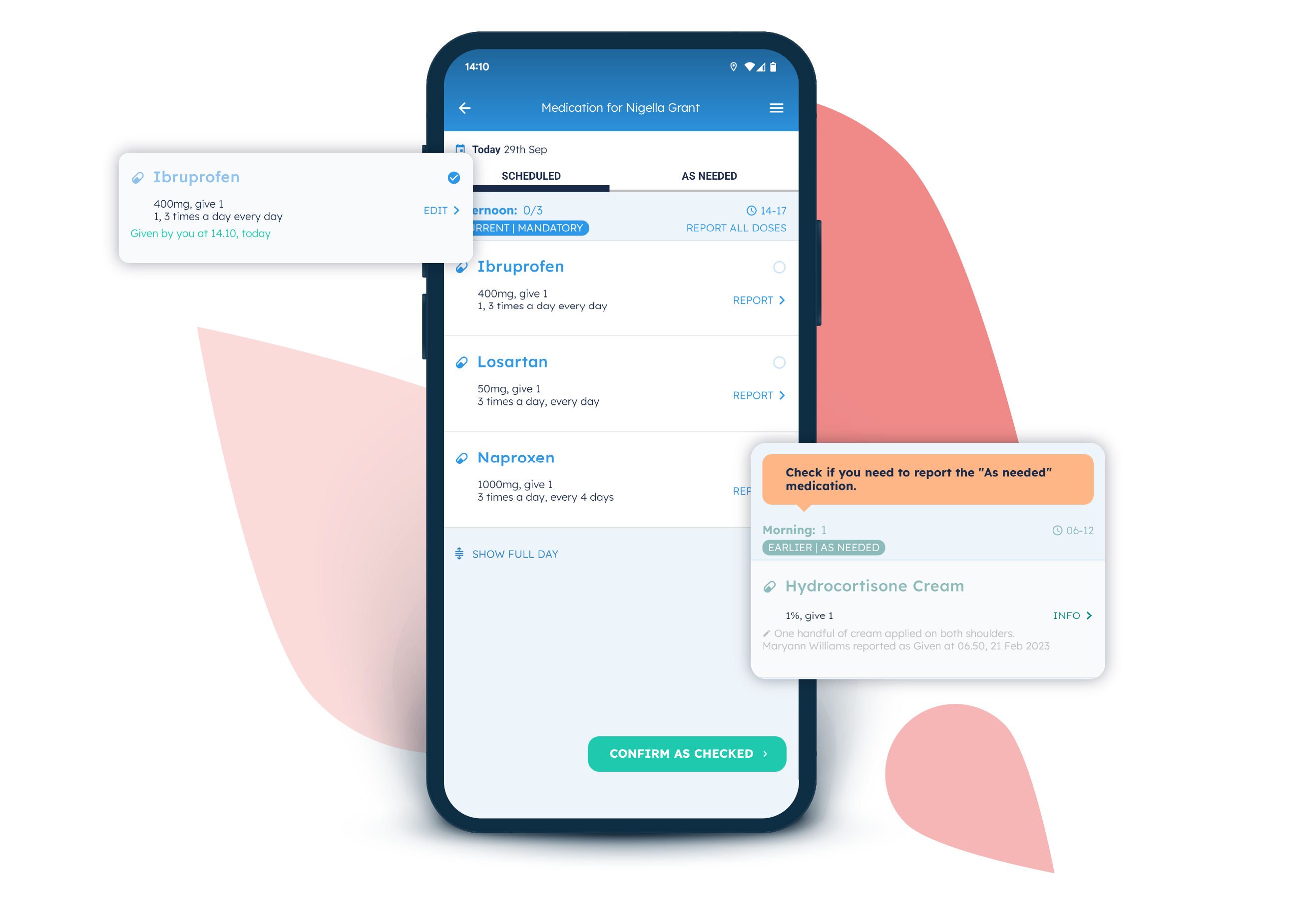 Platform
All Nursebuddy features
A forward-looking all-in-one care management platform for tomorrow's homecare companies.
Book a demo
Take a closer look at Nursebuddy
Book an online demo of Nursebuddy with our friendly, knowledgeable team.
No hard selling. Just a genuine chat to find out how Nursebuddy could best help your homecare company.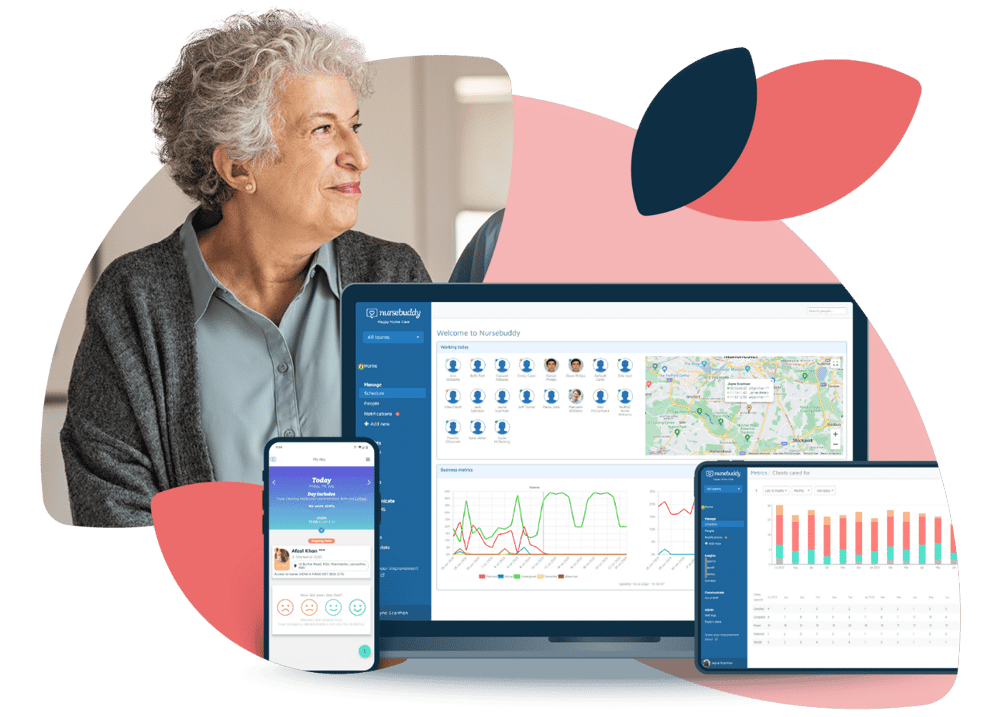 FAQs
Your questions, answered.
Some of the things we get asked most often.
Is there a place to upload proper paperwork for each client?
There is an Attachments section in each client profile where you can upload a document that has been scanned, photographed or created on your own computer.
How do I log-in as a care manager?
If you have already signed up with Nursebuddy, you can find your log-in details in your Welcome Email.
Once you have your log-in details, you can log-in directly from our website. The login link is on the top menu.
Didn't receive your login email? Send us a message to: support@nursebuddy.fi.
Testimonials
In their words
Discover why our customers love Nursebuddy.
Person-centred care
"We always make sure we take a cake to a client when it's their birthday, Nursebuddy's birthday reminder feature means we'll never forget."
Managing Director, Peartree1 Ltd
Preferred carers
"Being able to assign specific carers to clients as the 'Preferred Carer' helps immensely and has improved the efficiency of the service we provide."
Managing Director, Care for Me