Why Nursebuddy
Nursebuddy for Care Managers
Built to help homecare managers focus on what matters most: people, care delivery and growing a thriving business.
Digital care management
Simple. Streamlined.
We're here to take some of the headache out of the admin. With Nursebuddy, it's a breeze to get your planning done and much less cumbersome to make sure things are done correctly. It's also easier to react fast when things inevitably change.
Templates - pre-built templates for care plans and risk assessments speed up repetitive documentation.
Real-time alerts - when something happens that needs your attention, you'll be prompted in our Notifications Centre.
Monitoring tools - features like client visit feeds, interactive charts and maps make monitoring care delivery easier.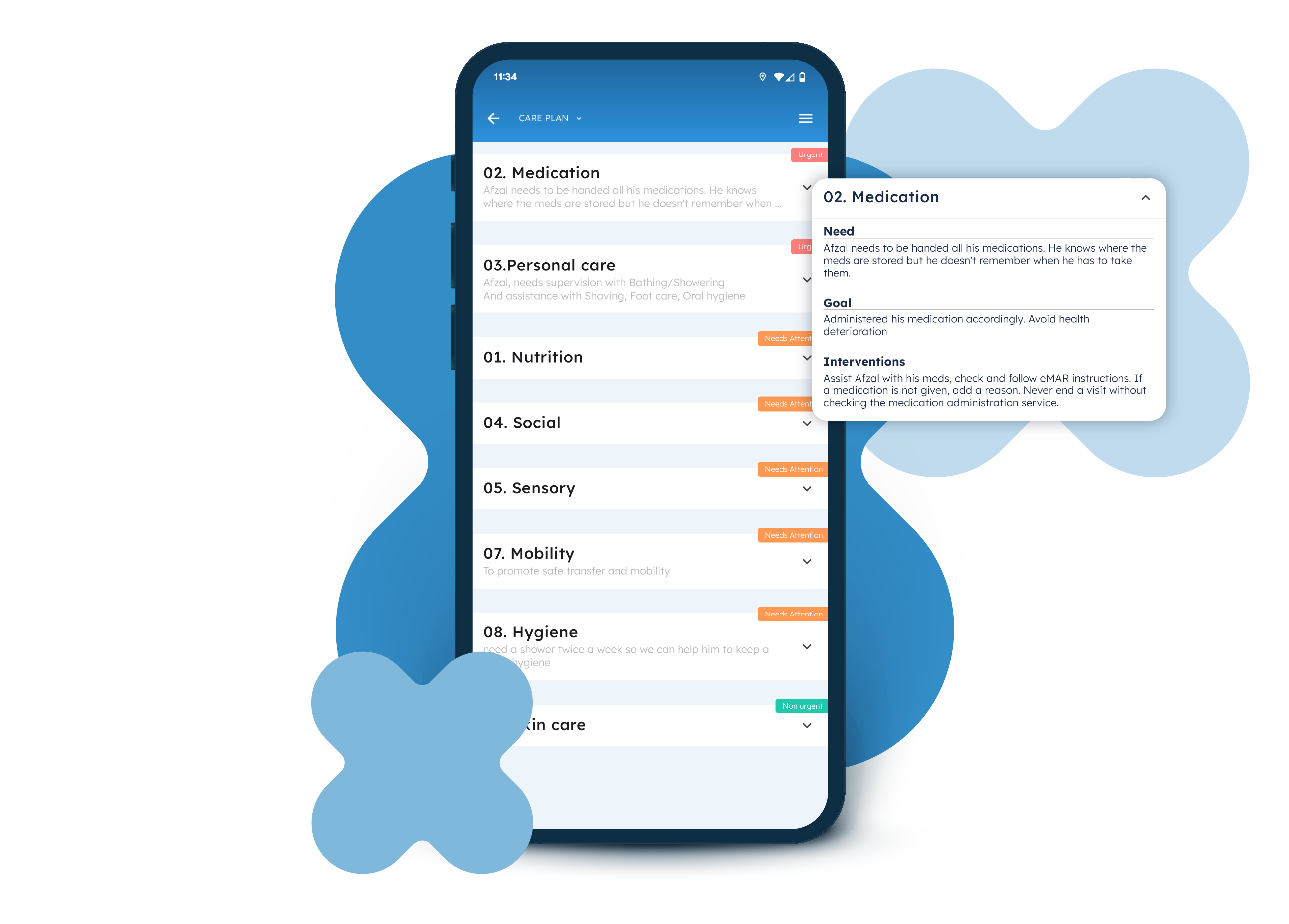 Reporting
Compliance, built in.
Using Nursebuddy means compliance is built into your care processes right from the start.
Notifications Centre - find the things you need to stay on top of in one convenient place, from late visits to missed medications and care plan reviews.
Reporting suite - demonstrating compliance is made as painless as possible with our suite of exportable and printable reports.
CM2000 integration - we know it's essential for many care organisations working with local authorities, so Nursebuddy hooks up to CM2000 as standard.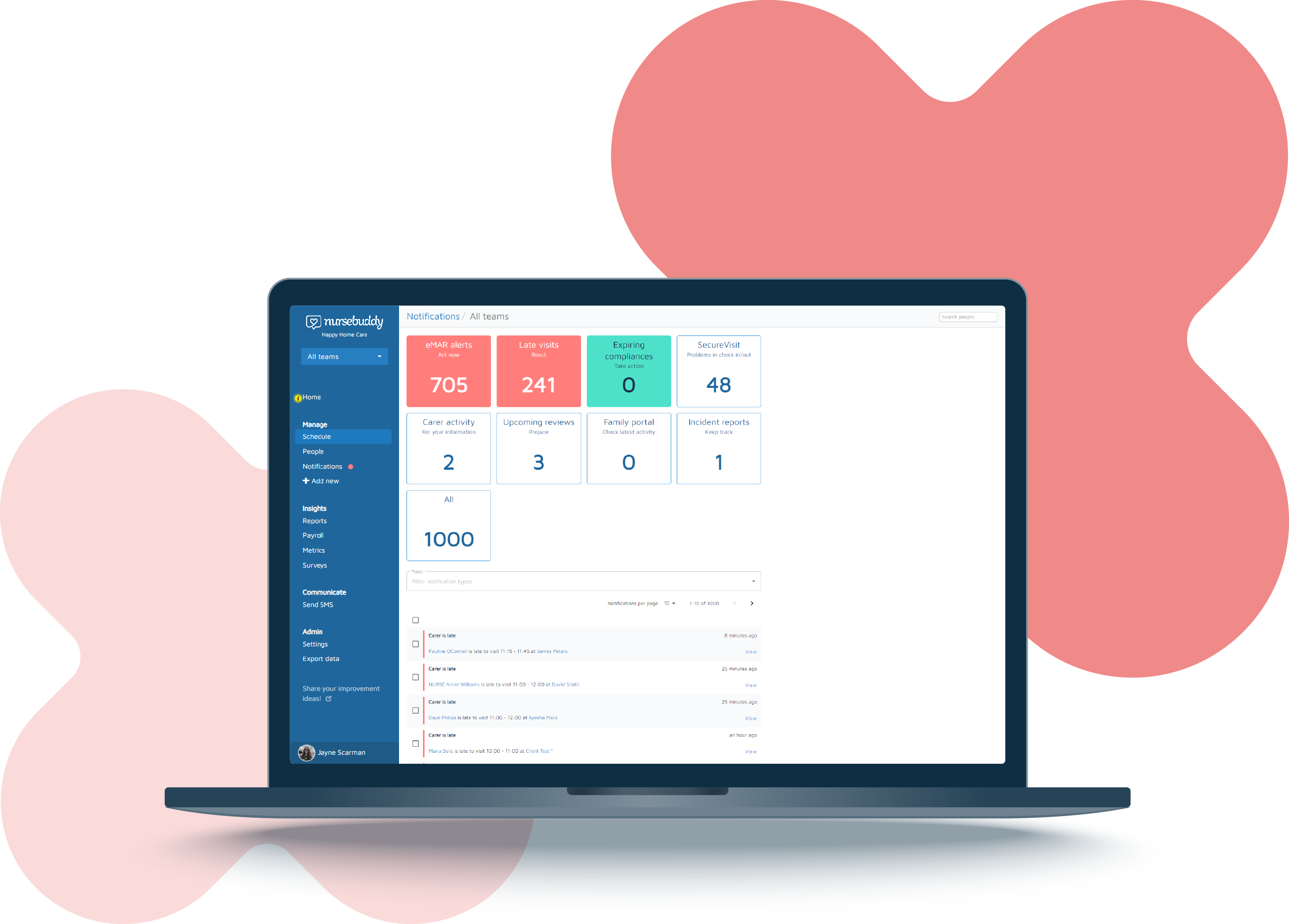 Scheduling
Resources, optimised.
Sophisticated scheduling tools within Nursebuddy make it super easy to allocate the best carer to a visit and mobilise care teams in the most efficient way. Let Nursebuddy take away some of the mental load that comes with staff rostering.
Powerful records - capture the important information about you carers' skills and experience, and you clients needs, then leave Nursebuddy to match them.
AI-powered scheduling - let our handy algorithm help you fill out your rota in the most optimised way - fast.
Manage by exception - anything the system can't allocate is flagged for your review, so you can focus on what really matters.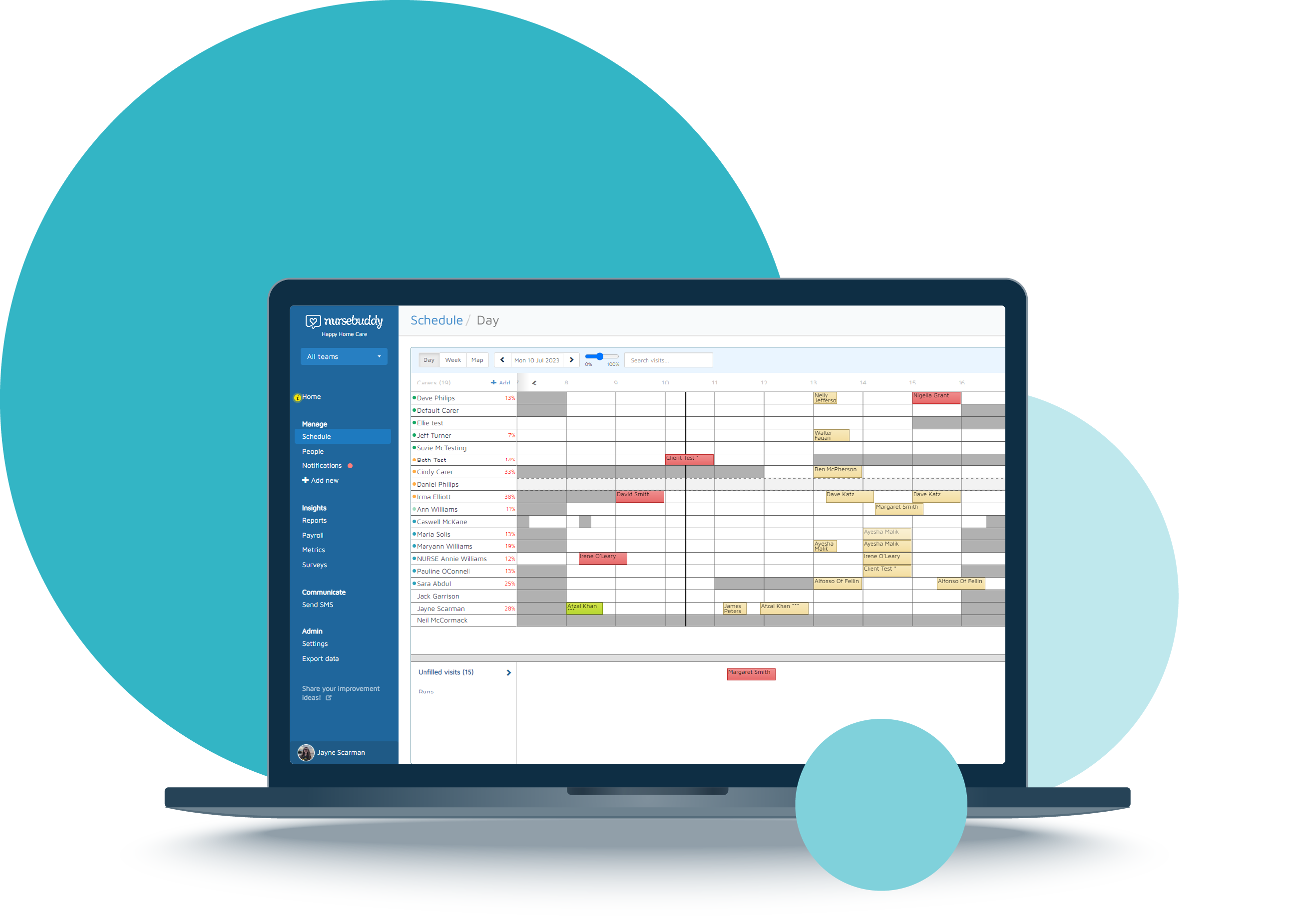 Retention
Staff satisfaction, boosted.
Our customers love how much their carers enjoy using the Nursebuddy app. Here's why.
Client details - carers feel confident and prepared when they go to visits, with everything they need to know available in their app.
Care recording - tasks and medications are quick to fill out with handy note-taking tools, so carers don't have to do endless repetitive admin.
Wellbeing - an in-app survey provides a valuable check-in each day so you can see exactly how your care team is feeling.
Reports
Pulse, checked.
There's oodles of insight within Nursebuddy. It's a fast, easy-to-understand way to check your company's pulse, and understand your team's capacity and potential for growth. It's also an early warning system if something's starting to go wrong.
Metrics - we've visualised a number of important business metrics, so you can quickly view how things are going, as well as analyse trends over time.
Drillable detail - browse charts on waiting time, travel time, visits planned and clients care for. Filter quickly by team or service, and drill down into new levels of detail.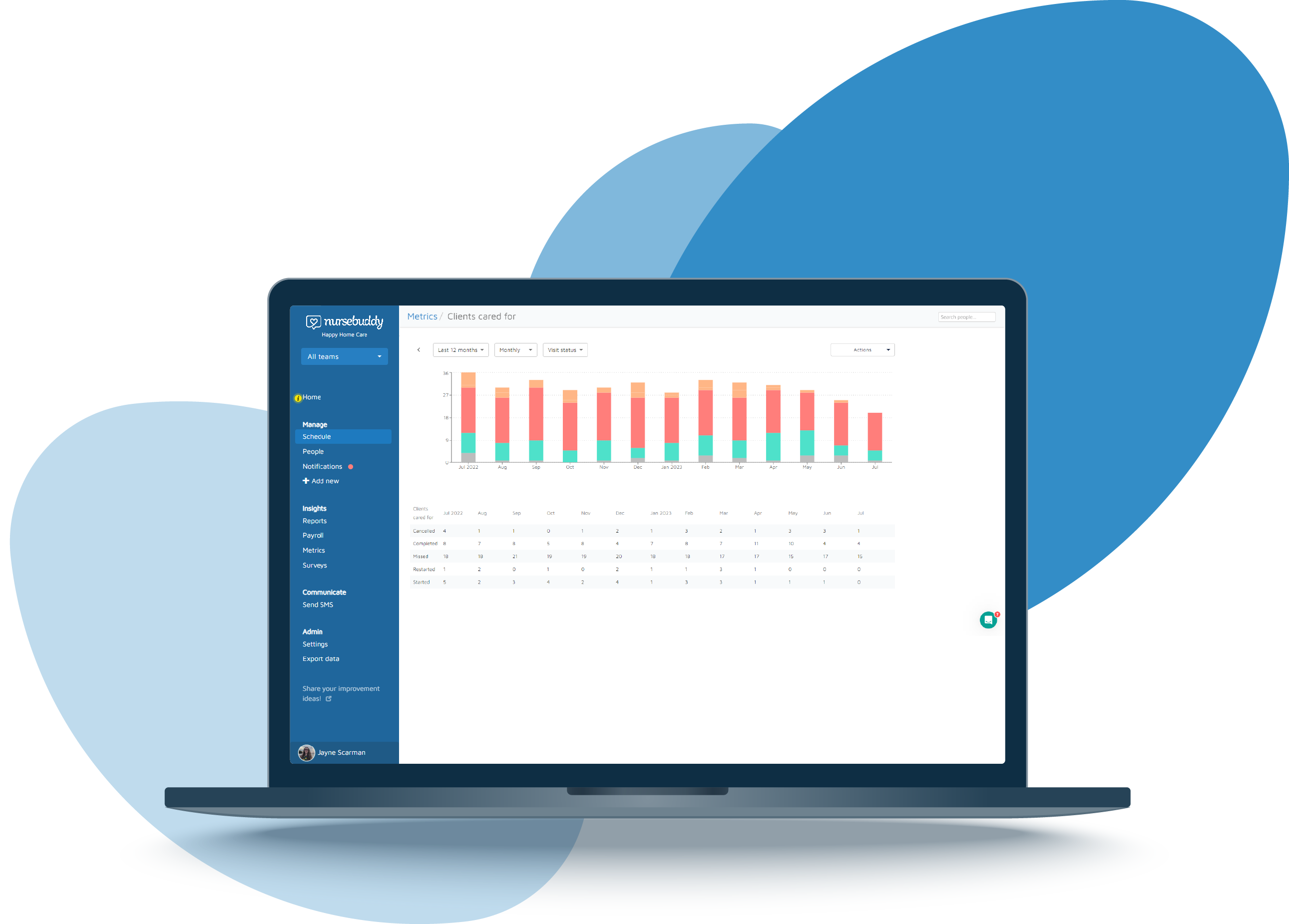 Inspections
Ratings, flying high.
Digital care management systems like Nursebuddy are highly effective for helping you deliver care in a compliant way. We also make it easier to demonstrate compliance to regulators.
Nursebuddy's customers tell us that inspectors are particularly impressed by our eMAR system, body maps and fluid charts - helping them to them maintaining their high ratings.
Nursebuddy for care managers
Take a closer look.
We get it. Care managers are busy people who don't have the time or brain space to work their way around complicated software. We've seen that first hand, so we made Nursebuddy as simple as possible to use - so you can focus on what matters most.
Book a demo
Take a closer look at Nursebuddy
Book an online demo of Nursebuddy with our friendly, knowledgeable team.
No hard selling. Just a genuine chat to find out how Nursebuddy could best help your homecare company.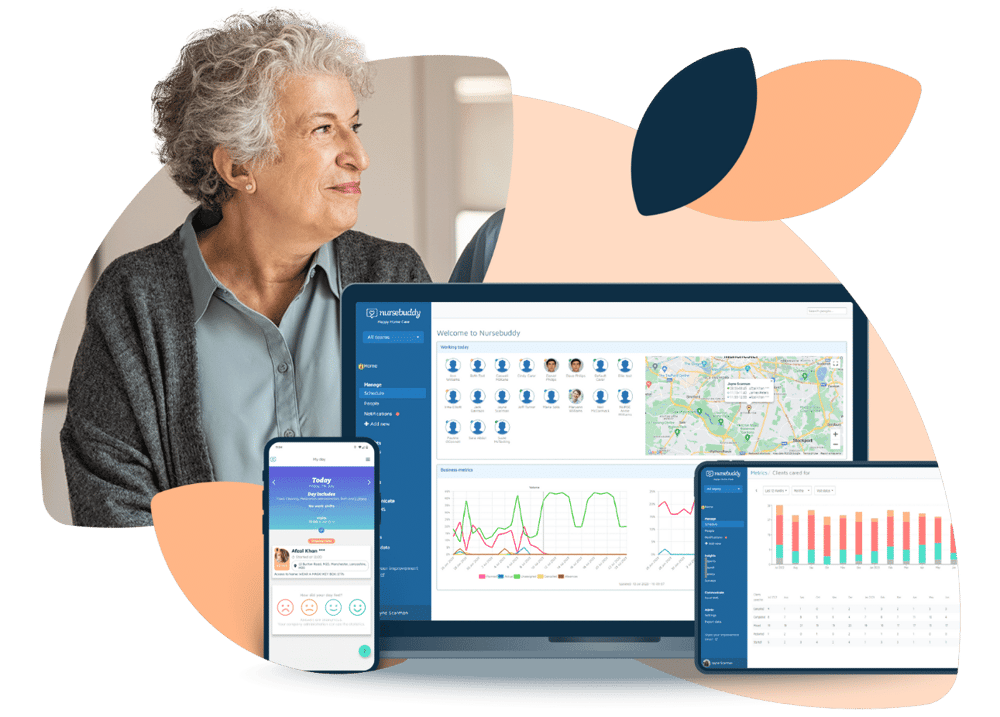 TESTIMONIALS
In their words
Discover what our lovely customers have to say about Nursebuddy.
Inspection ready
"Our inspector was very impressed by Nursebuddy and in particular eMAR, body maps and fluid charts. She loved that we could collaborate directly with developers too."
Care Manager, Caroline Cares for You
Retaining carers
"Staff retention for our company is at its highest since the company opened, even during all the challenges that the pandemic presented, and this is largely due to how our processes improved since moving to Nursebuddy."
Senior Home Care Manager, Care for Me
Saving time
"It is beneficial that both carers and contacts can have bespoke access to information regarding the client. The software also helps save time when it comes to conveying information to many carers, rather than having to contact them individually."
Reach Healthcare