Why Nursebuddy
Nursebuddy for Carers
Nursebuddy's carer app makes life easier for hardworking carers - reducing stress, risk and tedious repetition. We think you'll love it.
Detailed client records
Feel prepared.
The Nursebuddy app helps you to know exactly what you need to do during every visit.
Visit preview - log-in securely to see a wealth of information about your next client, including their care plan, routines, driving directions and access instructions.
Pinned notes - little details matter, so carers can pin notes for each other about how a client might be feeling, or something extra they might need.
In-app notifications - colour bubbles mean you'll never miss an update to a care plan or risk assessment. Just tap to mark them as read.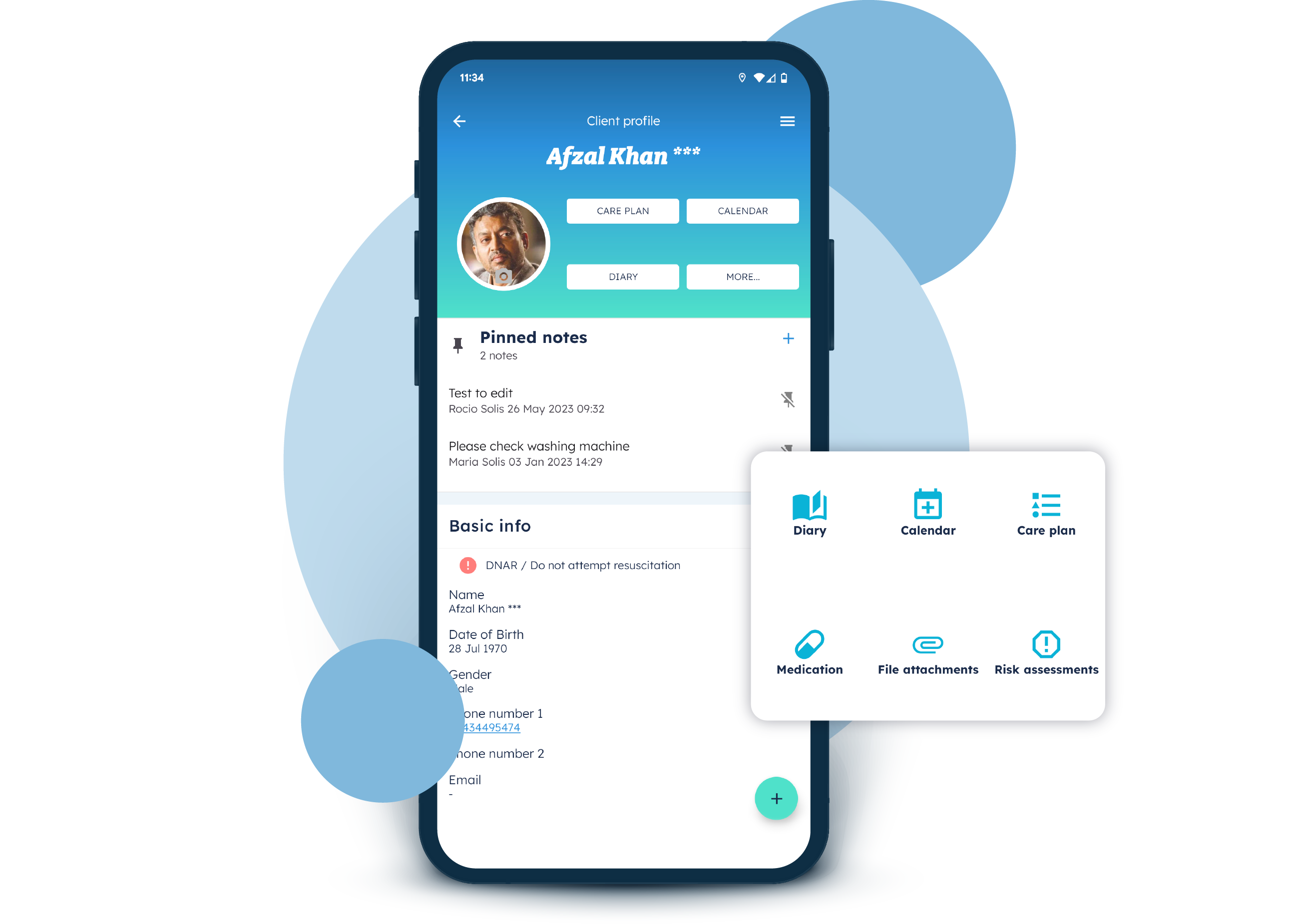 Clear instructions
Feel confident.
Wherever we can, we try to remove overwhelm and doubt - so you know exactly what you need to do at each visit.
Medications - come pre-filtered to the time period of a visit, to avoid confusion over what's required.
Body maps - clear visual markers with instructions indicate exactly where treatments need to be applied.
Care plans - appear in order of importance and totally unique to each client, so you can put their individual needs first.
Note-taking tools
Feel efficient.
Handy tools and intuitive task responses mean time isn't wasted writing up notes. Tap, tick, done. And you're back to focusing on the person you're with.
Voice-to -text - rapidly record notes via dictation.
Photo upload - add evidence of things like meal preparation.
Number boxes - capture details like fluid intake, fuss-free.
Safety and wellbeing
Feel supported.
Caring can be a tough job as well as being rewarding, and it can get pretty lonely out there on the road by yourself. Our app helps you stay safe and well while at work.
Real-time alerts - your safety comes first. Our app will send a notification to your care coordinator if you're late to arrive or check out of a visit.
Live location map - care managers can see where you were the last time you checked-in or out, and what time that was.
Privacy protection - our app uses GPS to know where you are, but only when you check-in and out of a visit.
Wellbeing survey - at the end of each day, choose an emoji to describe how you feel. And let your care manager know - anonymously.
Nursebuddy app for carers
A helping hand.
When you're out on a visit, you want to focus on the people you're caring for, not be distracted by paperwork or an annoying mobile app.
We've seen that first hand, so we made Nursebuddy's app super simple to use, prioritising helpfulness so you can focus on what you do best - providing person-centred care.
Book a demo
Take a closer look at Nursebuddy.
Book an online demo of Nursebuddy with our friendly, knowledgeable team.
No hard selling. Just a genuine chat to find out how Nursebuddy could best help your homecare company.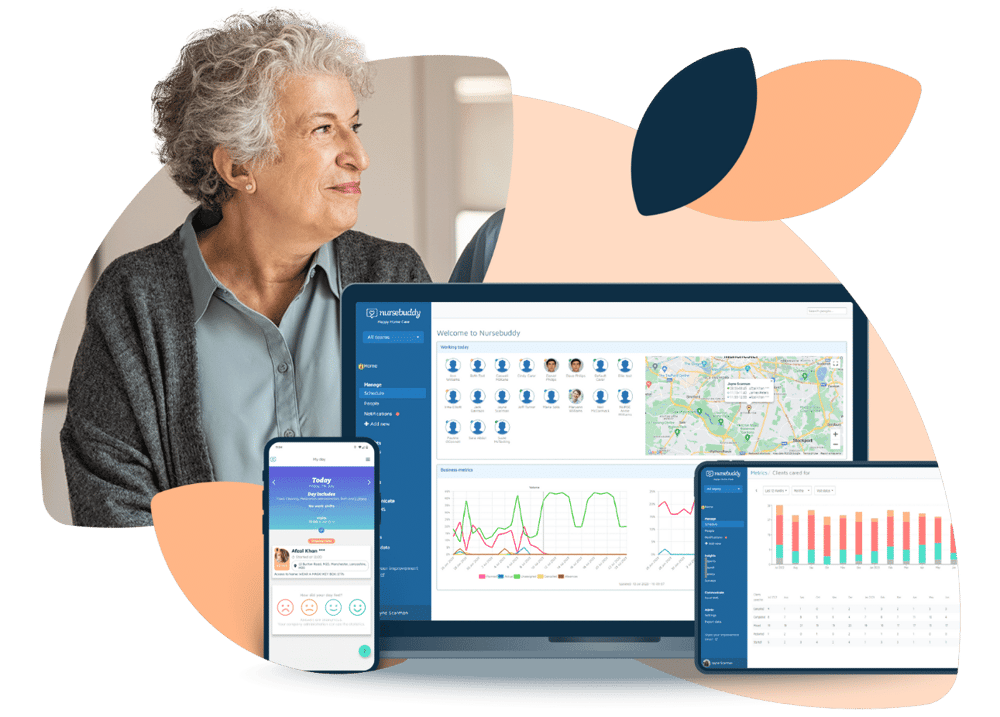 Testimonials
In their words
Discover what our lovely customers have to say about Nursebuddy.
Pocket encyclopaedia
"The Nursebuddy app is like having a personal encyclopaedia in my pocket about each of my clients."
Caroline Cares for You
Create a routine
"Knowing what their schedule will be weeks in advance with the carer app means that carers develop a routine and plan their own lives much more easily."
Senior Home Care Manager, Care for Me