Platform
Scheduling
Nursebuddy is packed with easy-to-use scheduling tools to help care agencies cover visits and update rotas quickly when something changes - as care does.
Automated scheduling
Take the heavy lifting out of rota planning.
Nursebuddy has a tonne of automated scheduling tools to lend a helping hand with creating complex visit rotas and prioritising continuity of care.
Full AutoPilot - with the help of AI, Nursebuddy automatically assigns visits based on details in your care records. Things like: availability, compliances, distances and preferred/no-go carers.

Preferred carers - kickstart a roster by assigning visits to a client's preferred carer; if one's been nominated, Nursebuddy will find it.

Past matching day - base a schedule on a similar day from past rotas, and Nursebuddy will match as many visits as it can.

Runs - group visits with similar characteristics together into a regular, recurring run. Then leave them to repeat.

Drag and drop - move visits easily with Nursebuddy's assistance to select the best matching carer and the right time slot.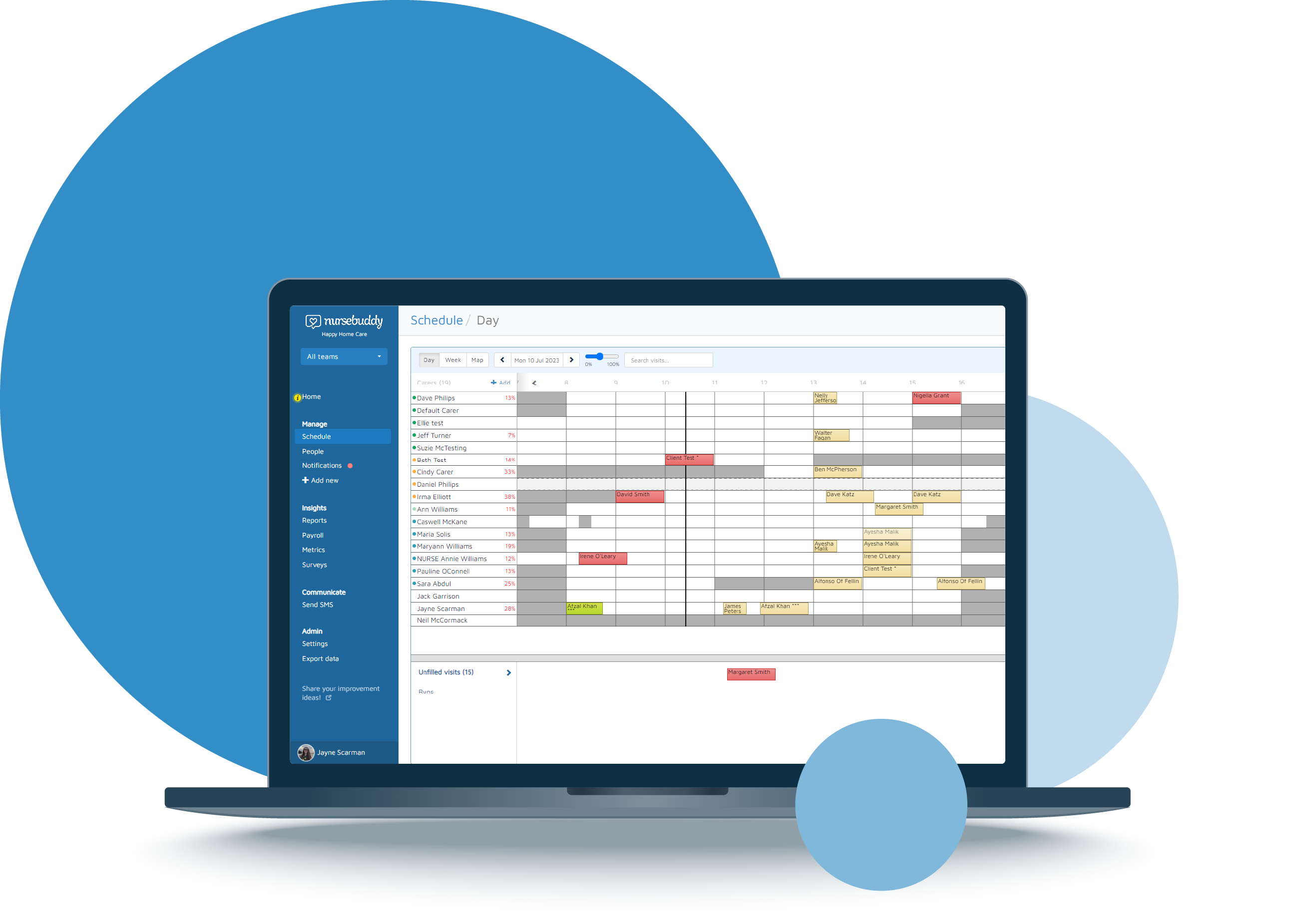 Visual cues
Spot the things that matter.
There's a lot to stay on top of when scheduling care. Nursebuddy's interface makes it easy to focus your attention on the things that are important.
Star ratings - indicate the best carer for the job

Status colours - show in real-time where there are problems with visits

Map view - to locate carers from their last check-in/out

Availability - blocks of colour highlight when carers are working

Unfilled visits - grouped together with a counter to signal they need attention
Rota publishing
Give carers a heads up.
Preparing your roster is one thing, communicating it to your care team is another. Nursebuddy makes keeping your team up-to-date quick and easy.
Rota publishing - send directly to the Nursebuddy carer app once your schedule is ready

Text messaging - send an SMS if something changes last minutes

Automatic schedule updates - up-to-date visit lists for carers every time they log-in to their app

Get a hard copy - for those who love a print out, you can do that, too
Platform
All Nursebuddy features
A forward-looking all-in-one care management platform for tomorrow's homecare companies.
Book a demo
Take a closer look at Nursebuddy
Book an online demo of Nursebuddy with our friendly, knowledgeable team.
No hard selling. Just a genuine chat to find out how Nursebuddy could best help your homecare company.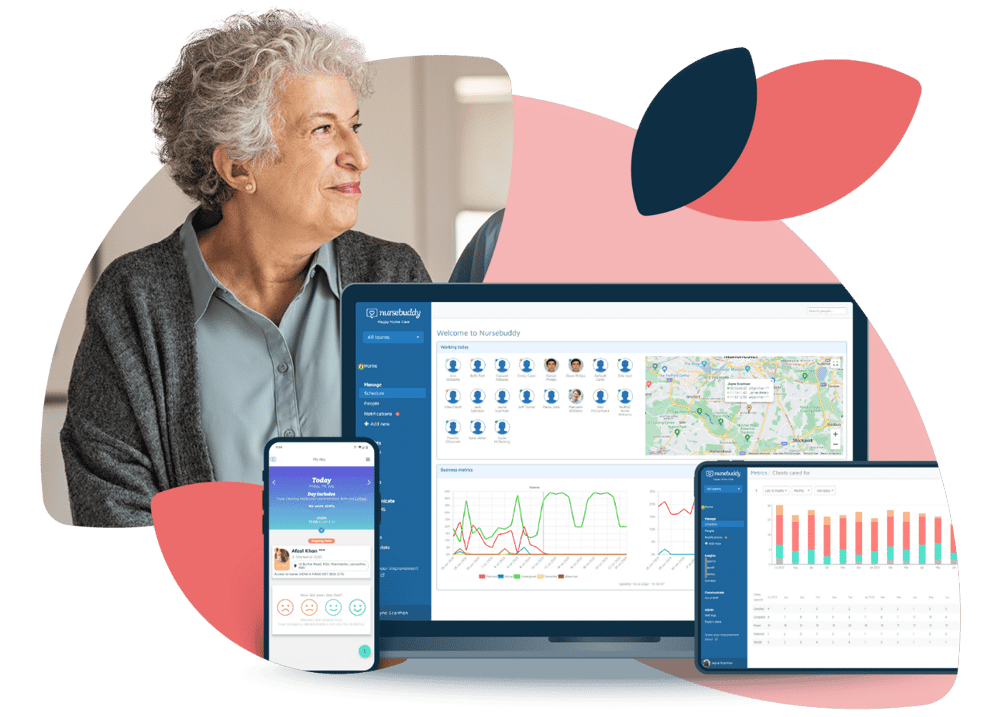 FAQs
Your questions, answered.
Some of the things we get asked most often.
How easy is it to create my schedules in Nursebuddy?
You can create your visit schedules in various ways, either manually or using our automation tools. For example, Nursebuddy's smart Autopilot does most of the heavy lifting of scheduling with one click, ensuring that carers have enough time between visits and their compliances meet the client's needs.
Can we print the schedule from Nursebuddy to send it to everyone?
Yes, you can print a summary of a carer's visits planned for the day.
Testimonials
In their words
Discover why our customers love Nursebuddy.
Increased efficiency
"Nursebuddy has allowed our company to improve the efficiency of the service we provide. Being able to assign specific carers to clients as the 'Preferred Carer' helps immensely with scheduling our services."
Managing Director, Care for Me
User-friendly
"The format of the scheduling is fantastic as you can see the full screen and copy from another day. You can see the client's names and even schedule for months in advance. Everything about it is user-friendly. It's simply superior in capacity in comparison to other solutions we've tried."
Registered Manager, Lapis Care
Life-changing
"Nursebuddy has certainly changed our lives - rotas can be done in minutes, can be edited and changed "live" to suit our client's needs. We were using paper to do our rotas then texting them out to each team member - it was a daily nightmare and something we look back at with dread, as we made mistakes and it took forever."
Care Manager, Caroline Cares for You