Platform
Family Portal
Bring the whole homecare kylä together around each client using Nursebuddy's Family Portal - from loved ones to health professionals and informal carers.
Connecting the kylä
Involve the people that matter.
Nursebuddy's Family Portal grants relevant third parties access to details about a client's care, securely. Family members and loved ones, as well as health professionals such as case workers or GPs, and informal carers, can receive the latest updates about care, at any time, from anywhere in the world. Family Portal members can access:
Care package details - such as a care plan summary, services provided, client profile and contact details medications, and relevant family and healthcare contacts

Diary feed - showing details of past visits, what was done and any notes left by carers. The feed is colour-coded to show which visits were successfully delivered, cancelled or missed, or are currently underway.

Calendar - displays upcoming planned visits, including the type of care delivered during that visit (such as medications and tasks) and which carer is assigned

Messaging - care companies can choose to enable messaging which allows families to leave notes on the client feed for the care manager to review
Platform
All Nursebuddy features
A forward-looking all-in-one care management platform for tomorrow's homecare companies.
Book a demo
Take a closer look at Nursebuddy
Book an online demo of Nursebuddy with our friendly, knowledgeable team.
No hard selling. Just a genuine chat to find out how Nursebuddy could best help your homecare company.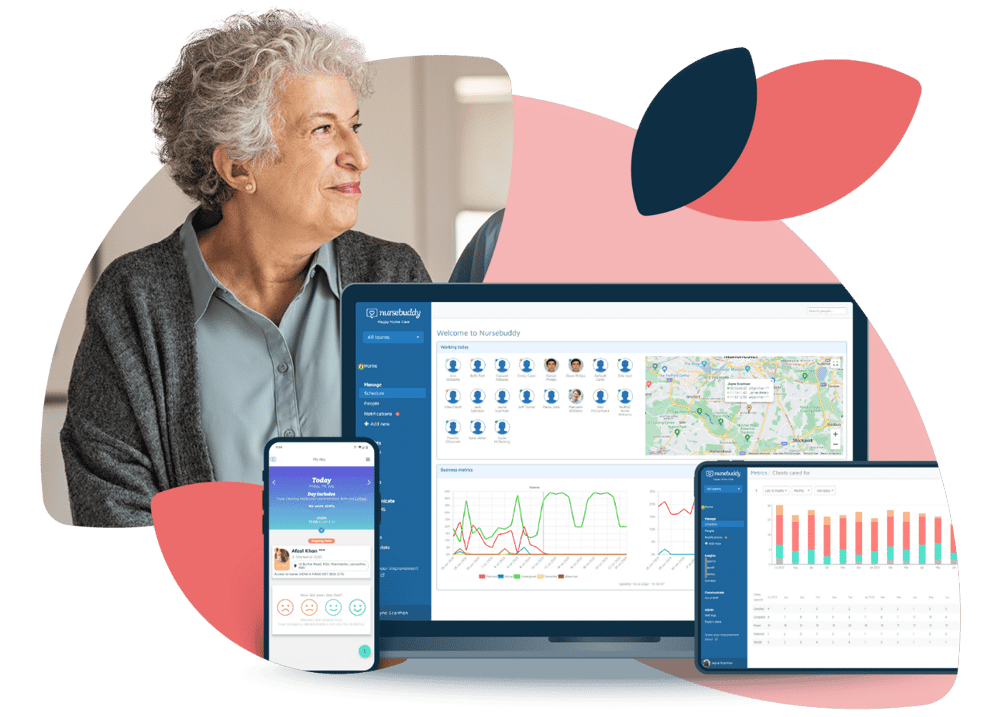 FAQs
Your questions, answered.
Some of the things we get asked most often.
How do family members log-in?
Family members need to contact their care provider for access to the Nursebuddy Family Portal.
Once they have their logiin details, you can log in at http://login.nursebuddy.fi.
Testimonials
In their words
Discover why our customers love Nursebuddy.
Check on mum & dad
"The Family Portal has become one of our biggest selling points. Clients' families love knowing they can be anywhere in the word and still check in with Mum & Dad."
SNT Care Manager, Spring Cottages
Access information
"It is beneficial that both carers and contacts can have bespoke access to information regarding the client."
Reach Healthcare