Platform
Carer App
Help carers to be prepared, confident and stay person-centred during visits, whilst keeping an eye on care delivery, with the Nursebuddy mobile app.
Digital care records
Pocket encyclopaedia of clients.
All the information a care worker needs to know about each client is securely locked within the Nursebuddy mobile app. Presented in an intuitive, uncluttered way, the app gives carers confidence to deliver the best possible standards of care.
Care plans are shown in priority order of need

Pinned notes from other carers or care managers, plus carers can pin their own

Colour bubbles indicate an updated care plan or risk assessment

Medications are pre-filtered to match a visit's time period, reducing the risk of mistakes

Body maps give clear, visual instructions on how to apply topical medications

Driving and access instructions are viewable prior to check-in, including key safe codes and sat nav links

A quick view of visits and tasks for the day ahead is shown to carers on log-in

Carers can quickly swipe to see future and past schedules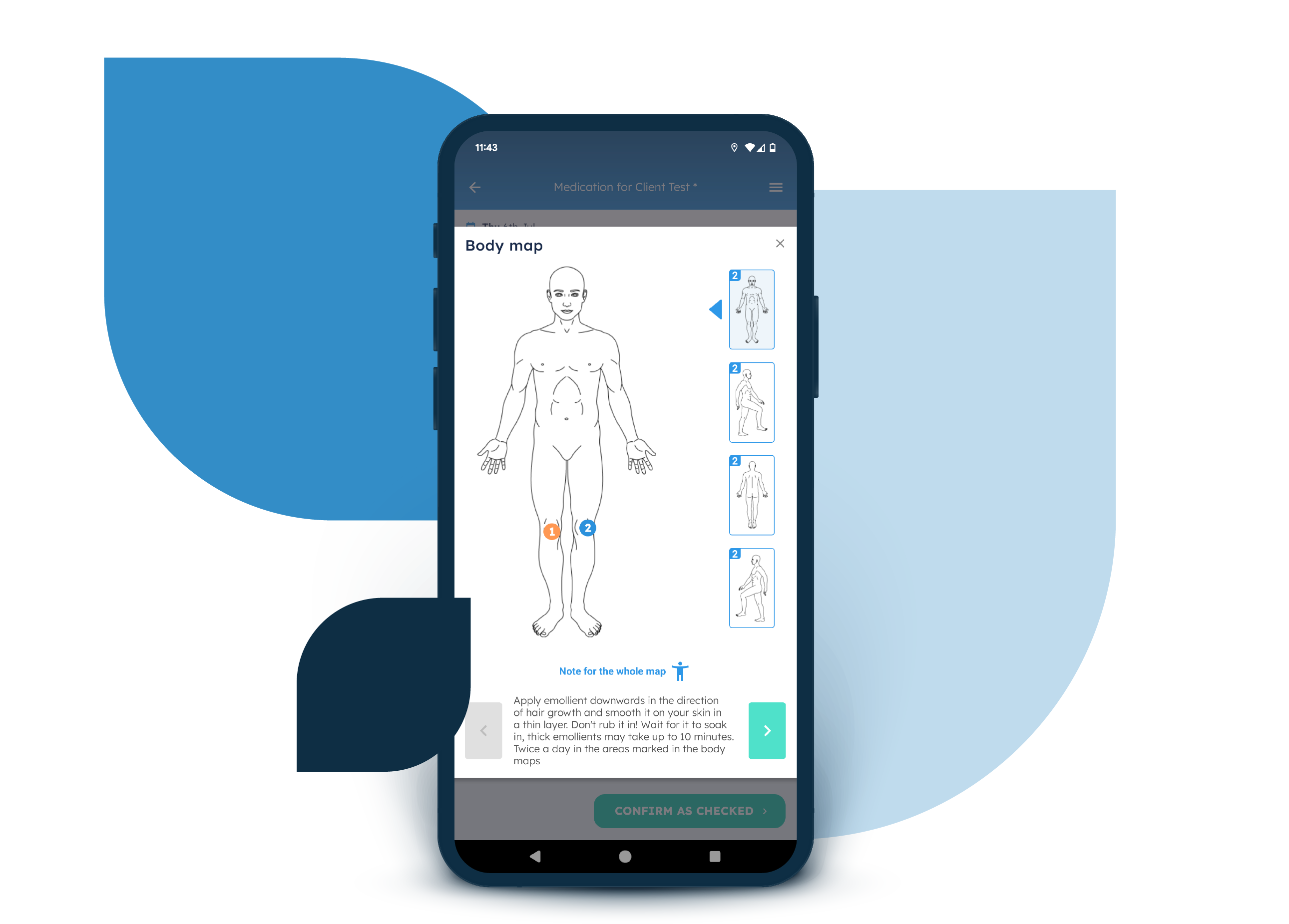 Modern mobile technology
Secure and reliable.
The Nursebuddy app has been built with security and reliability in mind, giving you peace of mind that client data is secure and your carers confidence in using the app, whatever the conditions.
SecureVisit provides a unique combination of GPS and QR code to provide our most accurate visit validation yet

GPS tracking is only enabled at the point of check-in/out, protecting your team's privacy (we get asked that a lot)

Immediate notifications are sent if a check-in/out happens at the wrong time or location, or if a carer fails to use the QR code or GPS

Daily notifications are sent if a carer fails to record a mandatory medication

The Nursebuddy app works in low signal and offline - essential when conducting visits in rural areas

Offline activity is automatically saved for up to 12 hours, and is sent across to Nursebuddy when signal or WiFi is restored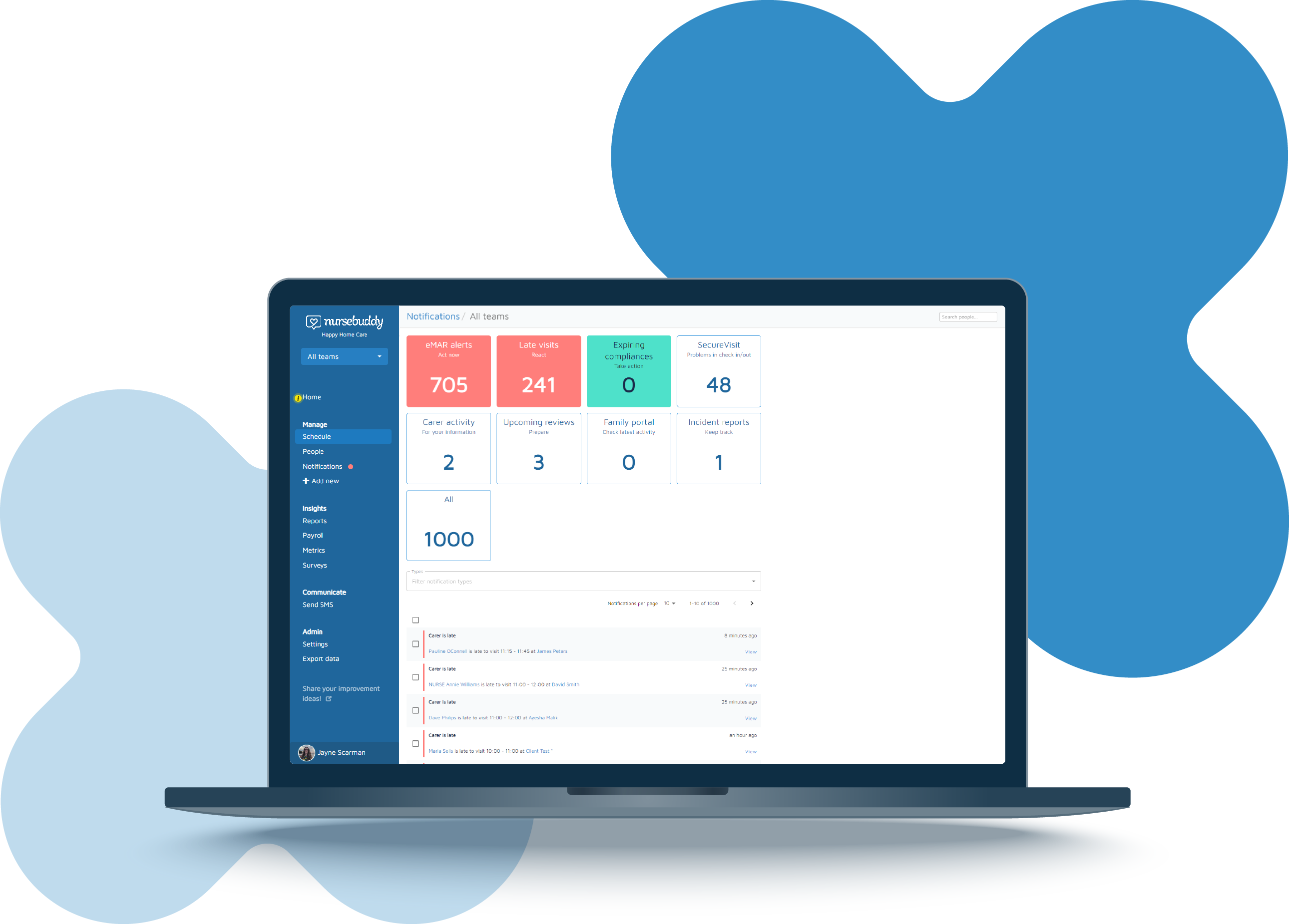 Easy to use
Stay focused on care.
We designed the Nursebuddy app to be easy to use, so carers can focus on the people they are caring for. Tasks and notes are super quick to fill out, with time saving features like:
Speech to text - to dictate notes at speed

Photo upload - to evidence things like meals preparation

Number fields - to record measurements like fluid intake or blood sugar levels

Tick boxes - for clearing down tasks as they're completed

Progress bar - to quickly see how much is left to do

Check-out prompts - reminding the carer of anything they might have missed
Wellbeing and retention
Look out for care teams.
At the heart of your business is your care team. Keeping them engaged, connected and positive is critical for the service quality and reputation of your business.
Shift check-ins - the Nursebuddy app encourages carers to record how they felt about a shift with a simple emoji

Anonymous sentiment data - care managers can see the results of shift check-ins, allowing them to monitor trends in their team's sentiment, satisfaction and wellbeing over time

Take a pulse check - monitoring your team's sentiment acts as an early warning, helping you spot when things aren't right or your team's morale is low.
Care organisations can also choose to allow carers to add and cancel visits for clients via the mobile app, request holiday or report sickness for themselves, and claim additional mileage.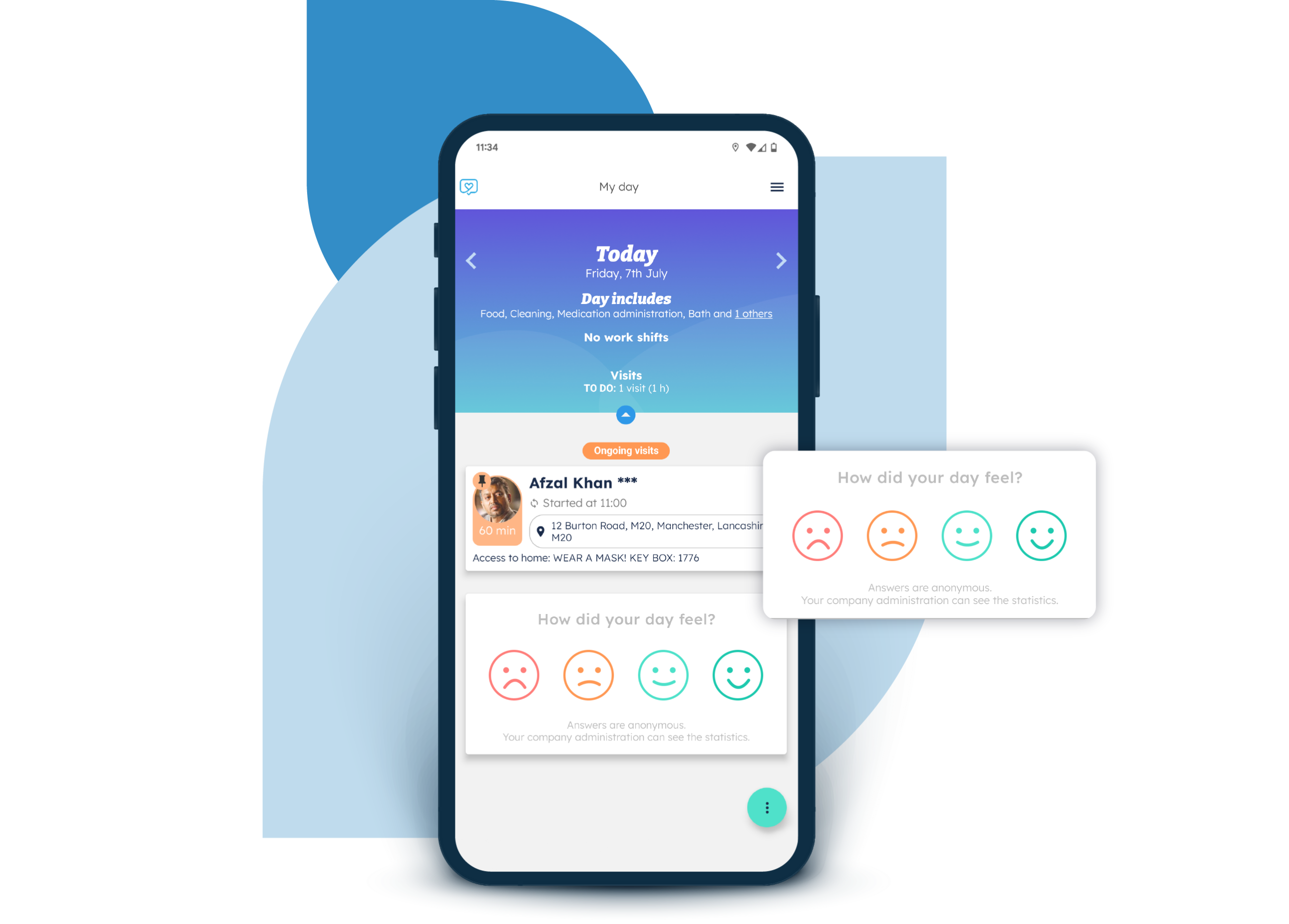 Platform
All Nursebuddy features
A forward-looking all-in-one care management platform for tomorrow's homecare companies.
Book a demo
Take a closer look at Nursebuddy
Book an online demo of Nursebuddy with our friendly, knowledgeable team.
No hard selling. Just a genuine chat to find out how Nursebuddy could best help your homecare company.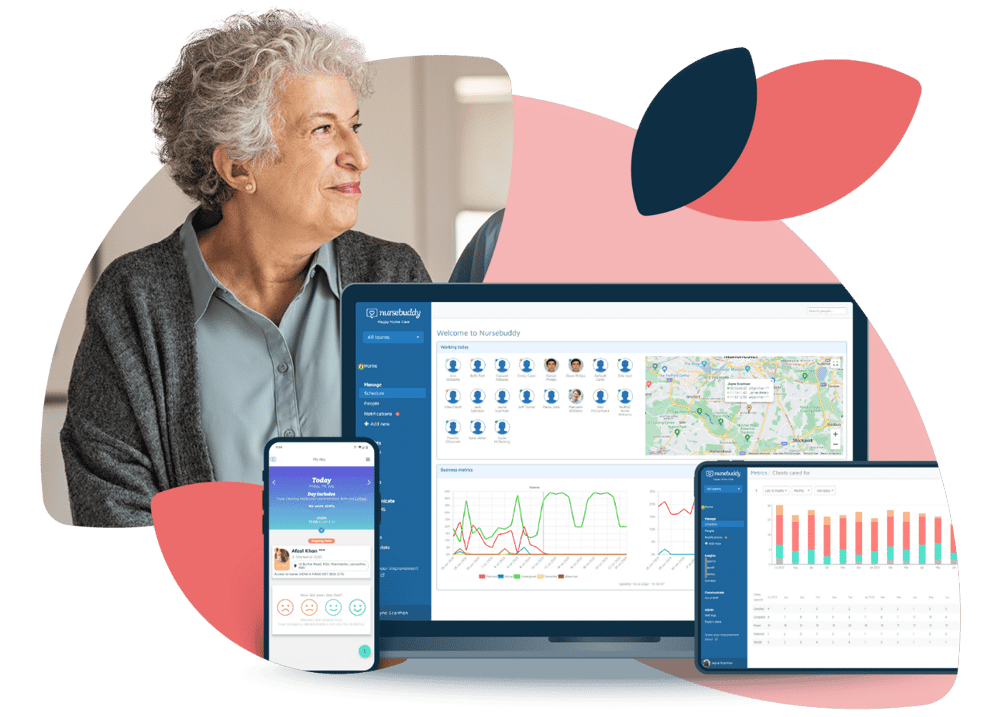 FAQs
Your questions, answered.
Some of the things we get asked most often.
What if staff have no internet connection or mobile data during a visit with a client?
Your staff can still use the Nursebuddy app even without network coverage and report through the application. When the carer comes back to a coverage zone, the saved information will be synchronised automatically.
If the carer is in a low coverage area, how will they complete the visit?
They can continue to use the app as normal up to 24 hours while offline as long as they have initially logged in in Wi-Fi/good coverage area.
How much mobile data and battery does the Nursebuddy app use?
Nursebuddy data and power usage is low and is the equivalent of any messaging app like WhatsApp.
Will I be able to see where my staff are all the time through the Nursebuddy app?
No, the Nursebuddy app shows your carer's location only during the time defined in the work shift. This guarantees the carer's privacy outside of work hours.
Can carers see important notes/additions to the care plan?
Yes, all updates are made in real-time so carers will see them on their mobile app immediately. New additions to the care plan or risk assessment need to be saved in order to be visible in the client profile on the app. Alternatively, the Care Manager can add a new service directly into the visit on the rota and it will appear in the visit details on the app.
Do we need to supply smartphones to carers or can they use their own? What if they do not have one?
Carers can use their own smartphone and download the app for free so you do not have to supply smartphones to staff. If they do not have a smartphone, they can use a tablet or use their computer at home to log in at the start and end of each day.
What if my staff are still reluctant to use a mobile app?
Nursebuddy helps to improve care staff's daily workflow. Our customers tell us that Nursebuddy helps them feel safer. They have a digital record of where and when they were with a client, and save hours of checking and verification that may otherwise be needed.
If a phone is lost or stolen, how is patient data protected?
The Nursebuddy app will close after a few seconds and will require logging in again to use. Therefore, it will not be possible to open the app or access patient data if the phone is lost or stolen.
How do I log-in as a care worker?
Download the Nursebuddy mobile app from the App Store of Play Store and log in using your username & PIN code.
Don't have a username? Please contact your Care Manager.
Testimonials
In their words
Discover why our customers love Nursebuddy.
A pocket encyclopaedia
"The Nursebuddy app is like having a personal encyclopaedia in my pocket about each of my clients."
Caroline Cares for You
Carer retention
"What has helped us most with staff retention since we began using Nursebuddy has been our ability to accommodate schedule changes in the lives of our carers."
Senior Home Care Manager, Care for Me
Supporting rural clients
"Signal is often our biggest challenge in these areas but we have worked with Nursebuddy and the help and technical advice has been amazing."
Care Manager, Caroline Cares for You