Why Nursebuddy
Nursebuddy for Families
Nursebuddy's Family Portal is all about giving peace of mind - keeping you involved in your loved one's care, from anywhere in the world.
Secure log-in
Feel closer.
Family members can log-in to Nursebuddy's Family Portal, securely, from anywhere in the world. Once logged-in, you can see visit details and notes left by carers, to get an idea of how your loved one is doing, and what sort of care they're receiving.
It's one way to feel closer and more connected to what's happening, reducing the distance when you can't be there in person.
Calendar and plans
Stay involved.
Lots of information about your loved one's care is visible in the Family Portal - such as care plans, services, medications and a diary of visits, including which carer is attending.
Care organisations also have the option to enable notes for families - meaning you can add notes or leave messages for the care manager to view or pass on. A simple way to help you feel more involved in the care of your loved one.
Notes and activities
Breathe easier.
The Nursebuddy Family Portal provides reassurance that your loved ones are being looked after well, by offering complete transparency between care teams and families.
Notes and activities from both care managers and care workers are pushed directly to the Family Portal for you to see, completely unfiltered.
Book a demo
Take a closer look at Nursebuddy.
Book an online demo of Nursebuddy with our friendly, knowledgeable team.
No hard selling. Just a genuine chat to find out how Nursebuddy could best help your homecare company.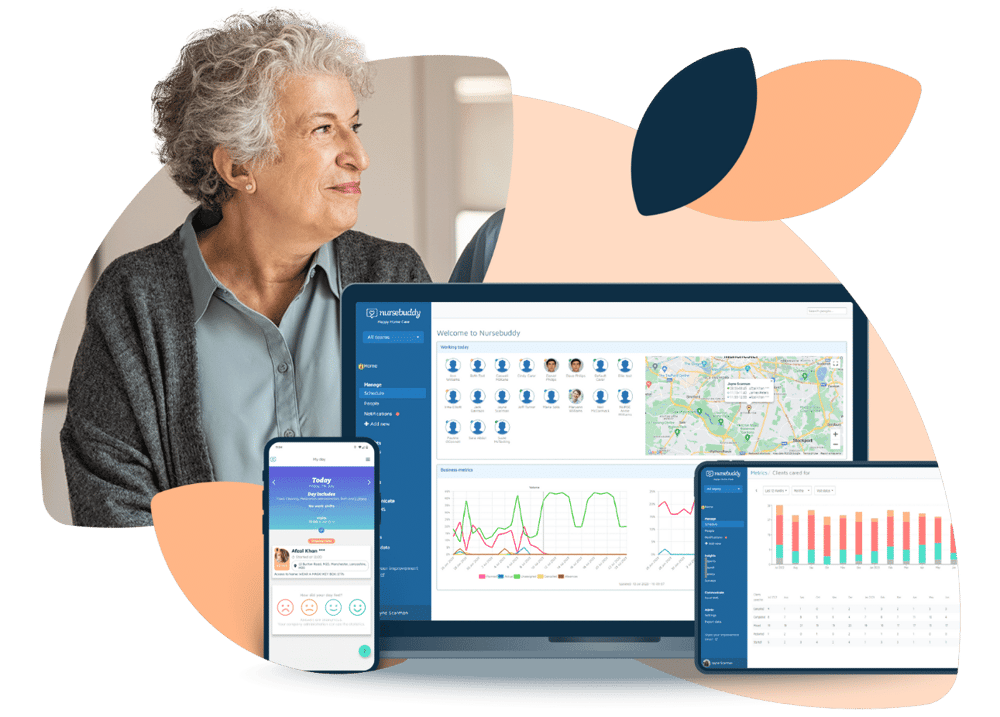 Testimonials
In their words
Discover what our lovely customers have to say about Nursebuddy.
Check on Mum and Dad
"The Family Portal has become one of our biggest selling points. Clients' families love knowing they can be anywhere in the word and still check in with Mum & Dad."
SNT Care Manager, Spring Cottages
Get information
"It is beneficial that both carers and contacts can have bespoke access to information regarding the client."
Reach Healthcare