Platform
Quality & Compliance
Using Nursebuddy means care quality and compliance is baked-in to your care processes from the get-go.
Carer suitability
Meet client needs.
Nursebuddy has in-built safeguards to ensure that visits are attended by only the most appropriate carers.
Compliances - relevant and required documentation, such as DBS checks and skill certifications, are logged against carer records and factored in when scheduling

Evidence - documents can be uploaded as evidence of each compliance, with an expiry date attached

Reminders - care managers are prompted by an alert within the Notifications Centre when compliances are about to expire
Intuitive mobile app
Person-centred care delivery.
People are individuals, so care must reflect that. Nursebuddy helps care workers to know what their clients need most.
Pinned notes - care managers can pin notes within the Nursebuddy app to flag what's most important for a individual client. Carers can also add their own pinned notes for the next carer to see, or to alert care managers of a change in the client's situation.

Care plans - goals-focused and tailored to each client, care plans are displayed to carers in order of highest need, within our mobile app

Task completion - once a task is completed, it fades from view in the carer's mobile app, so it's easy to see what's left to do during a visit

In-app notifications - carers are prompted to go back if they've missed something when they try to check-out of a visit
Visit validation
Monitor care.
Nursebuddy monitors whether a carer arrives on time or not, and whether they did what they were supposed to during a visit.
SecureVisit - our most accurate visit validation yet, SecureVisit uses a combination of GPS and QR code, to guarantee an accurate record of when and where a carer checks-in
Real-time alerts - if there's a problem at a visit, such as a late check-in, early check-out or the wrong GPS location, care coordinators are notified in real-time via the Notifications Centre
Location map - care coordinators can see a live map of where carers are while they're out on call
eMAR
Safe medication management.
Managing medications in a compliant way is handled by Nursebuddy's in-built eMAR system.
Medication recording - carers are prompted within the Nursebuddy mobile app to record when medication is given, at what time, and to share any supporting notes

Safety prompts - if a carer misses a medication, an in-app notification prompts them to go back and complete it, before they can check-out

Medication alerts - at the end of each day, the Notification Centre displays any medications missed, medications reported as not given and medications reported multiple times

Automated MAR charts - when a carer records a medication in their mobile app, it automatically fills in that client's MAR sheet

Easy-to-read - colour-coded MAR charts visually show whether medication was given correctly or not, with numerical reason codes if not given, with full details displayed underneath

Printable - Nursebuddy has the option to print MAR sheets if needed
Incidents and risk
Keep clients safe.
To ensure safeguarding within a care team, Nursebuddy supports risk assessments for clients and incident reports for both clients and carers.
Templates - starting from a template takes some of the repetition out of creating risk assessments for clients and standardises your approach to risk

Risk categories - both risk assessments and incident reports can be grouped into logical categories, to assist you in managing risk in a systematic way

Evidence - documentation such as photographs or emails can be attached to incident reports, to ensure you have collated the information you require

Version control - once a risk assessment or incident report is created it is locked, to prevent unauthorised editing

Notifications - the Notifications Centre will prompt you when it's time to review a risk assessment or if a new incident report has been created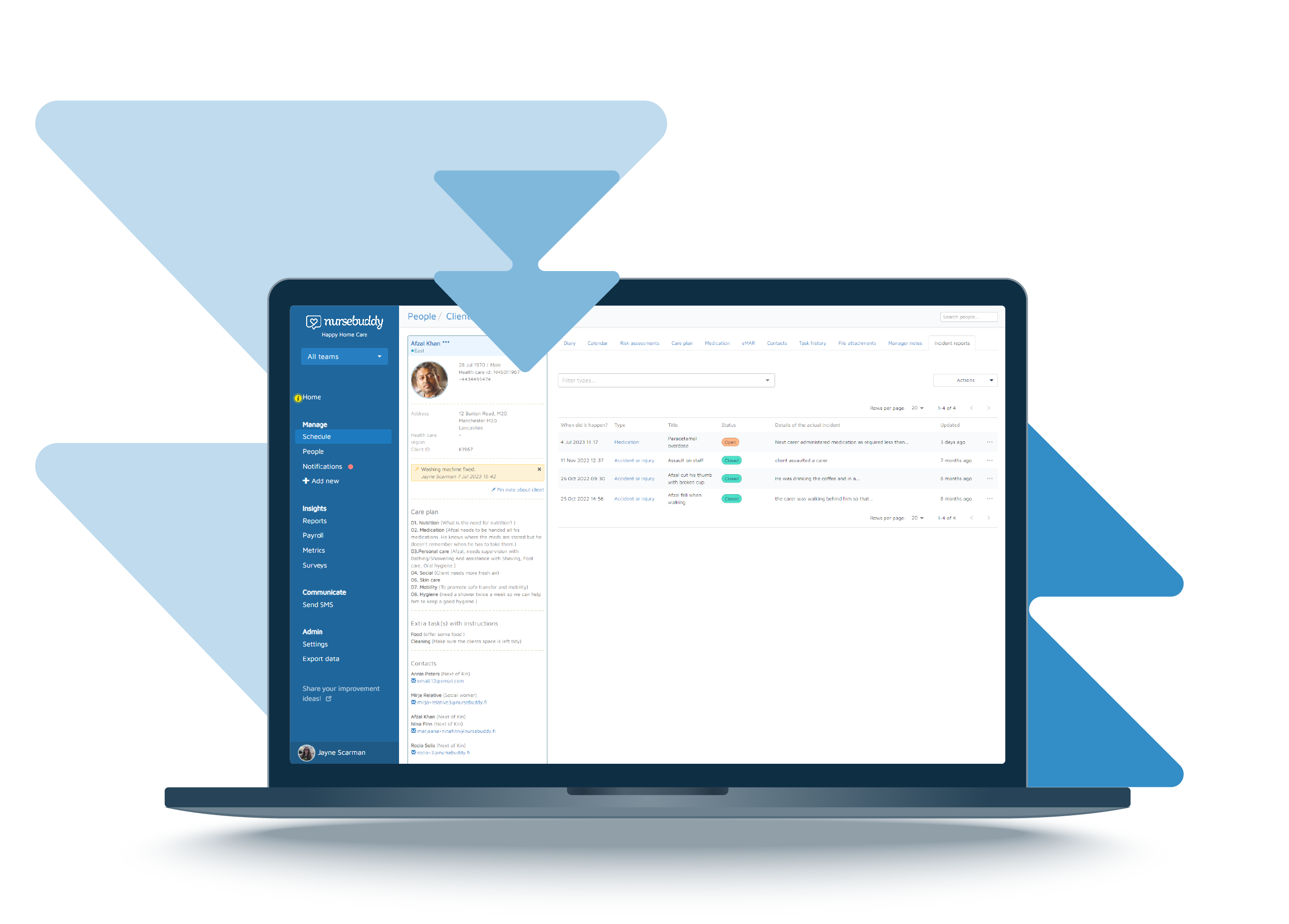 Notifications
Know what matters.
The Notifications Centre in Nursebuddy is the place to go for anything that needs attention. It brings together the critical details that care managers need to keep an eye on, available to check at any time, with a visual prompt within Nursebuddy whenever there is something new to review.
Notifications include:
Expiring carer compliances - like DBS checks, mandatory training or work permits

Pending reviews - for care plans and risk assessments

Incident reports - all newly-created reports are flagged in the Notifications Centre

Visit problems - such as late visits or missing location data

eMAR issues - like missed medications

Messages - sent in via the Family Portal

Pinned notes - created by carers during visits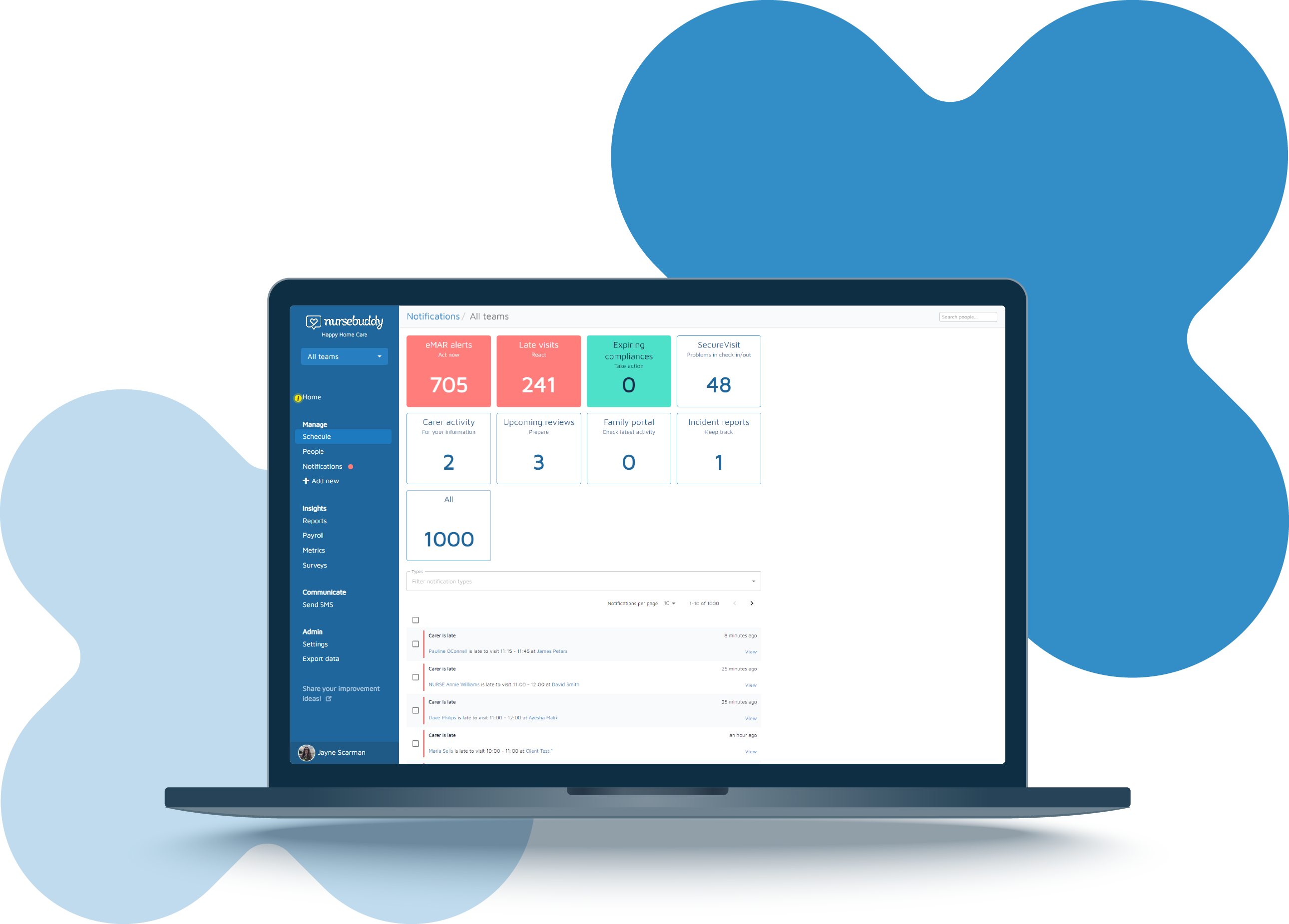 Change logs and version control
Prevent unauthorised changes.
Critical areas of Nursebuddy have change logs and version controls, to protect against mistakes or unauthorised edits.
Care plans - once a care plan is created, it gets locked until it is due for a review and can't just be amended. Newly-published care plans appear in the carer app, with a notification bubble prompting the carer to read it.

Risk assessments - version controls prevent unauthorised changes. Risk assessments are edited in draft and then published, so carers only see the most recent version in their app.

Visits - a change log is visible to care managers on individual visits, showing all changes made within the last 30 days

Medications - to avoid accidental changes, it is not possible to edit dosages. Instead, a new medication instance must be created.

Incident reports - as a safeguarding measure, incidents can't be edited once saved. Comments and action logs can be attached to the report to show outcomes.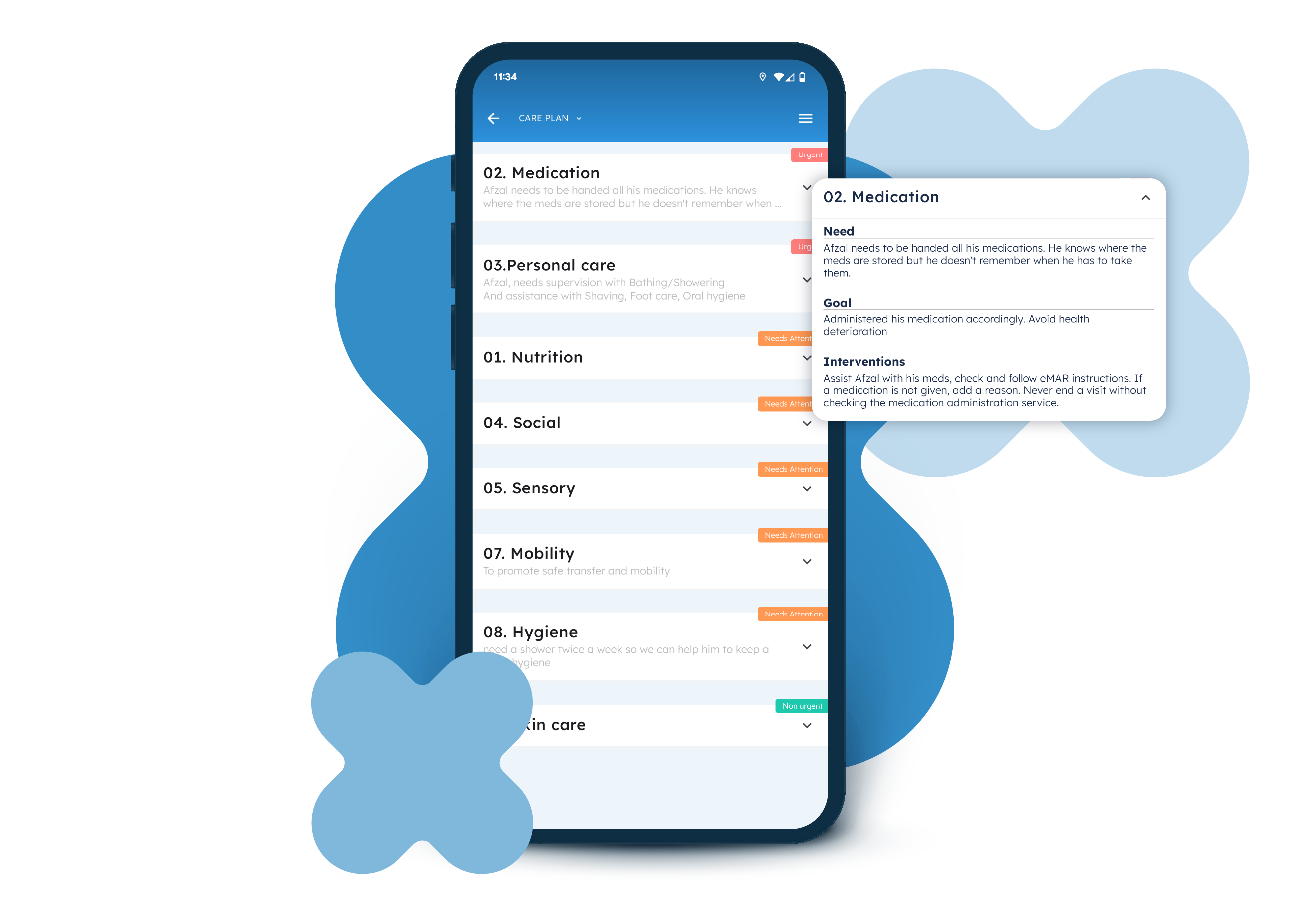 Reports and dashboards
Find new insights.
Nursebuddy includes a range of pre-built reports on care delivery, which can be used to evidence compliance with regulators or commissioners. The include:
Planned versus delivered hours, plus billable time

Detailed visit views - planned versus actual duration, billable rates and cancellations

Client absences - such as hospitalisations or family visits
Key metrics are also visualised into charts to easily keep track of care quality and compliance over time. Charts can be filtered by time period, team or service and drilled into for further detail.
All reports and charts can be printed or exported to .csv format for further analysis.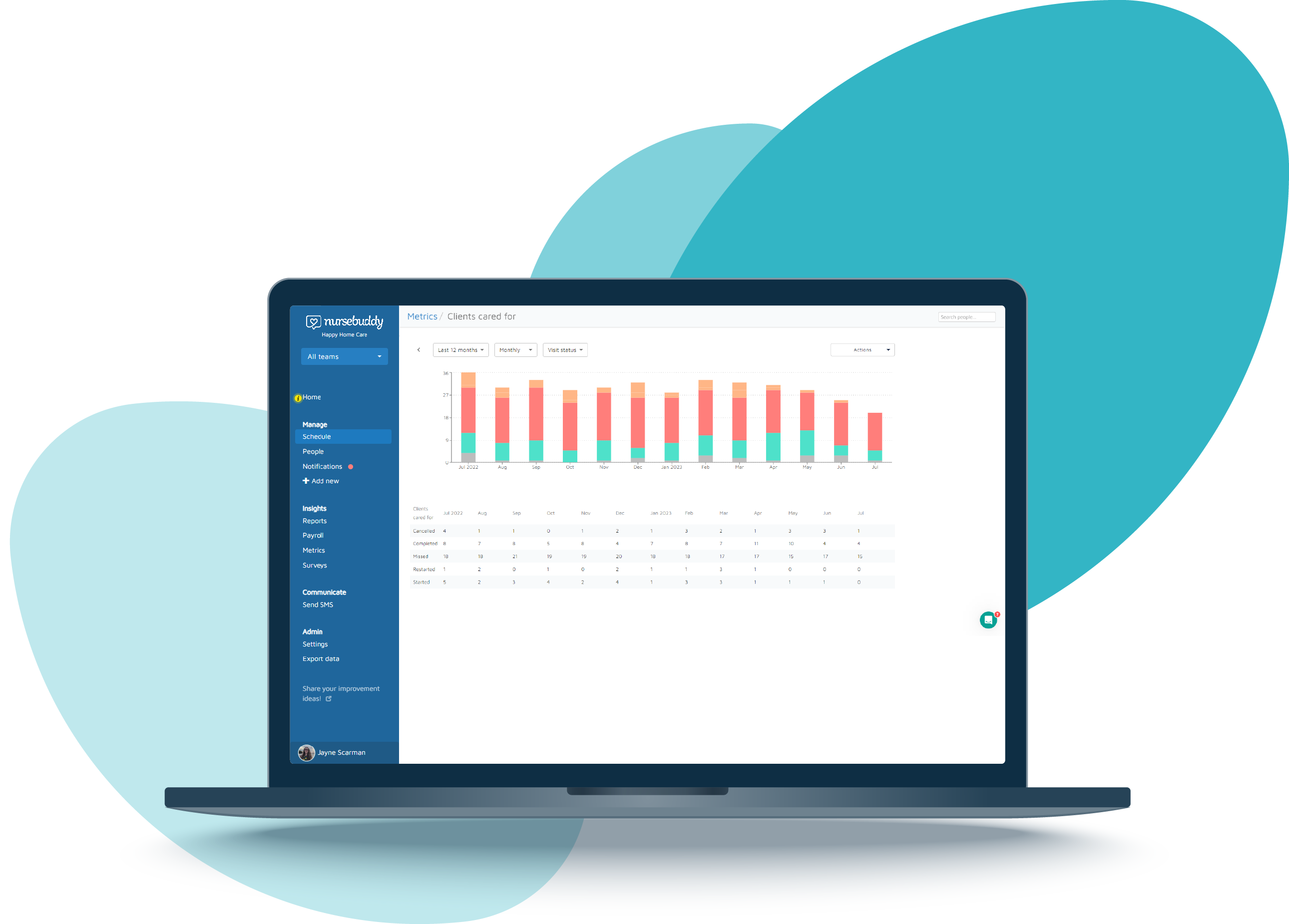 Platform
All Nursebuddy features
A forward-looking all-in-one care management platform for tomorrow's homecare companies.
Book a demo
Take a closer look at Nursebuddy
Book an online demo of Nursebuddy with our friendly, knowledgeable team.
No hard selling. Just a genuine chat to find out how Nursebuddy could best help your homecare company.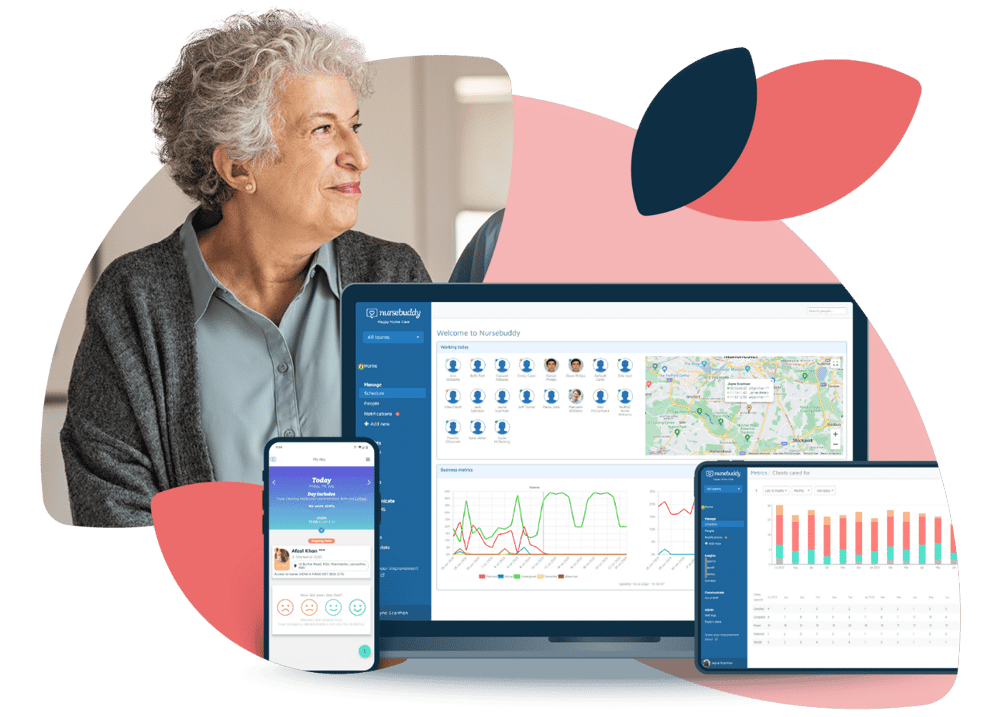 FAQs
Your questions, answered.
Some of the things we get asked most often.
How does the compliance tab in the carer's profile work?
You input the name of the certification or qualification along with a date and the system will indicate if a carer is compliant or not when the rota is being done. The manager will also receive a notification informing them 30 days before this is due to expire.
Where is the data stored?
We take the security of your data very seriously at Nursebuddy. The environment that hosts the Nursebuddy services maintains multiple certifications for its data centers, including ISO 27001 compliance, PCI Certification, and SOC reports. The servers we use are located in Ireland and Germany. For more information please read our security practices.
What reports can I create in Nursebuddy?
Nursebuddy allows you to create various types of reports on clients and carers. These help you analyse visits, absences, incidents and notes for each visit, as well as carer compliances.
Testimonials
In their words
Discover why our customers love Nursebuddy.
Smooth inspections
"Our inspector was very impressed by Nursebuddy and in particular eMAR, body maps and fluid charts. She loved that we could collaborate directly with developers too."
Care Manager, Caroline Cares for You
Quick preparations
"A recent CQC inspection was completed in a couple of hours through accessing the data online - previously it would have taken them 2-3 days to go through all the paperwork."
Managing Director, Peartree1 Ltd
Easy compliance
"Once we migrated to the integrated system that Nursebuddy provides our capacity to, and the speed to which we could, review and verify the quality of our care was greatly increased."
Senior Home Care Manager, Care for Me