"Is it possible for draft rotas to not be visible for the care staff as the coordinator wants the flexibility to trial different visit patterns before publishing?" - A care manager
Yes, it is!
With Nursebuddy, you can plan and edit your rotas flexibly before publishing them.
This is how to do it:
Click Settings and Schedule Publishing

Choose how far into the future you want your carers to access their rota (choose 1, 2 or 4 weeks)

Select which day you want to publish rotas on a weekly basis
Changes are saved automatically!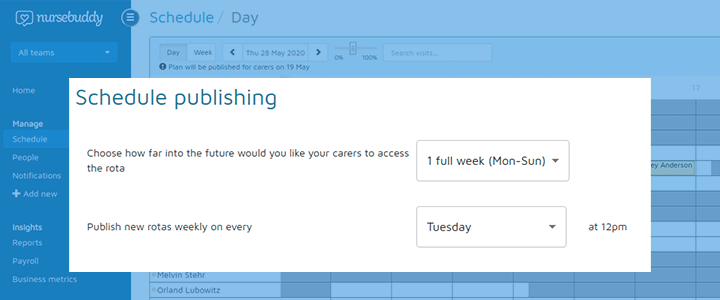 Changing circumstances affect plans and confused carers might call an already busy office to comment about an unfinished rota that doesn't work for them.
By creating draft rotas, you can avoid any confusion that an unfinalised rota might cause to your staff.
Please note this functionality is available only for Admin users. Only admins can set up the draft scheduling for the company. Once an admin has set it up, the publishing of rotas is entirely automatic.
The days that are in the draft stage are clearly shown on the scheduling page.
Learn more about scheduling homecare with Nursebuddy.